Croatia Secures Thrilling Victory Over Netherlands to Reach European Nations League Final
Introduction:
In a dramatic semi-final clash at Feyenoord Stadium, the Croatian national team emerged triumphant with a 4-2 victory over the Netherlands in the European Nations League. Andrej Kramaric, Mario Pasalic, Bruno Petkovic, and Luka Modric were the goal-scoring heroes for Croatia, while Donel Mallen and Noah Lang found the back of the net for the Netherlands. With this win, Croatia has secured their spot in the final, awaiting the winner of the match between Spain and Italy. The loser of that match will face the Netherlands to determine the third-place finisher.
Tense First Half:

The initial fifteen minutes of the match passed without any significant threats from either side. The Netherlands came close to scoring with a dangerous cross by Simmons, but goalkeeper Levakovic was alert and prevented a goal. Pasalic attempted to meet a rebound from the Dutch defense, but Nathan Ake's intervention denied him a clear shot. Modric managed to find the net with a ground shot, but the referee called a foul on Pasalic for a challenge on Ake before the goal.
The Netherlands Takes the Lead:

After half an hour, Kramaric unleashed a shot from inside the penalty area that narrowly sailed over the crossbar. In response, Kopemeners fired a powerful strike over the goal. Mallen ignited the match by scoring the opening goal for the Netherlands just before halftime, placing his shot into the far right corner of the Croatian net.
Croatia Fights Back:

The second half began with Kramaric attempting to put Croatia level with a shot toward the far left corner, which missed the target. Amidst Croatian pressure, Modric won a penalty kick after being fouled by Jakpo. Kramaric stepped up and successfully converted the penalty, equalizing the score. Both teams had opportunities to take the lead, but Levakovic and the Dutch defense made crucial saves.
Dramatic Overtime:

In the dying moments of normal time, Lang scored a dramatic equalizer for the Netherlands, forcing the match into extra time. Petkovic quickly restored Croatia's lead with a powerful long-range shot. The Netherlands had a chance to equalize, but Lang missed the target. Pasalic also struck the crossbar with a remarkable effort. However, the referee awarded Croatia a penalty kick, which Modric confidently converted, sealing their victory with a fourth goal. Petkovic found the net again, but the goal was disallowed due to offside.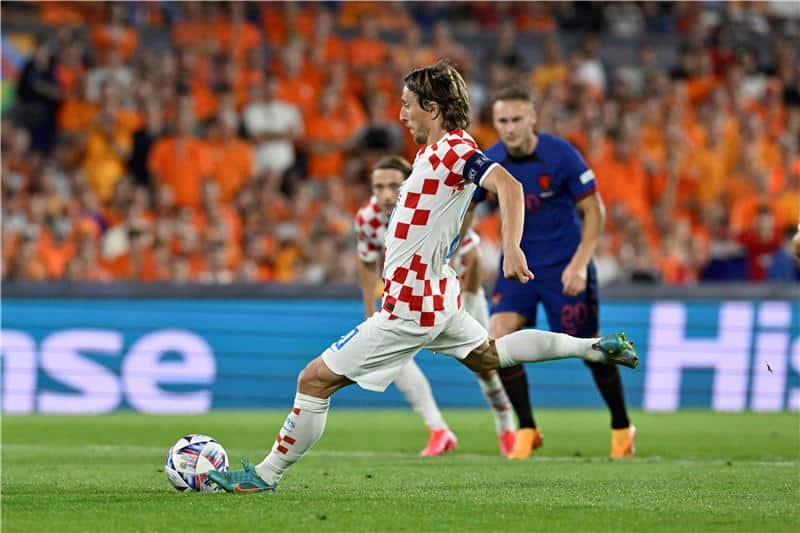 Conclusion:

In a thrilling encounter, Croatia secured a memorable 4-2 victory over the Netherlands to advance to the final of the European Nations League. The match was filled with twists and turns, with goals, penalties, and missed opportunities shaping the outcome. Croatia's impressive performance sets up an exciting showdown in the final, where they will face either Spain or Italy. Meanwhile, the Netherlands will compete for third place against the losing team from the other semi-final.