Goals: Manchester City – Burnley – Played on 03/18/2023
Manchester City made its way to the FA Cup semi-finals, by defeating its guest Burnley (6-0) on Saturday evening in the quarter-finals of the competition.
Manchester City scored six, the Norwegian Erling Haaland "hat-trick" in minutes (32, 35, and 59), Julian Alvarez "double" (62 and 73), and Cole Palmer (68).
The first quarter of an hour passed quietly, then Burnley had a dangerous opportunity when Tila received a pass from Zaruri and fired a shot that was saved by Stefan Ortega.
The danger of Burnley continued when Colin passed to Zarouri, who directed a cross that the Iraqi-born outsider tried to follow with his head without succeeding.
Manchester City managed to open the scoring when Alvarez passed a through ball to Haaland, who dodged the goalkeeper before putting the ball into the empty net.
Haaland scored his second goal when Foden got rid of Roberts on the left side, before passing a cross, which the Norwegian striker followed into the net.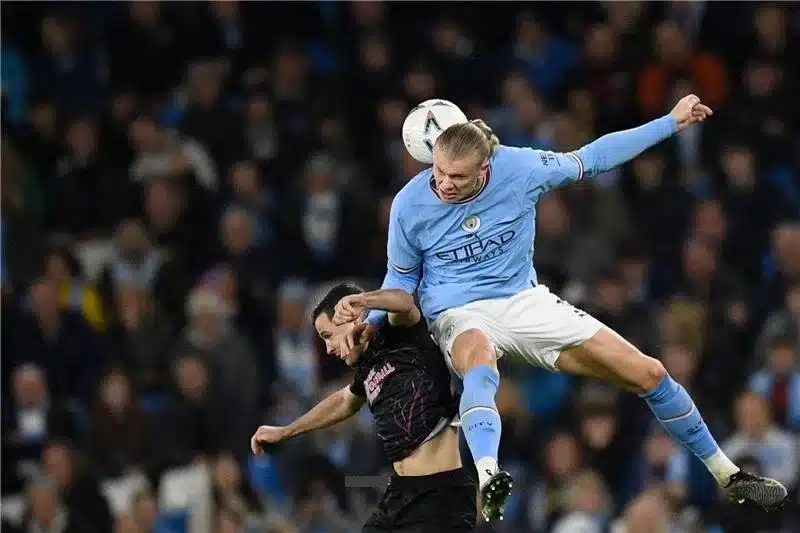 Burnley tried to reduce the score before the end of the first half when Ortega blocked a shot from Mathisen after a pass from Zarori in stoppage time.
The referee awarded a free kick in favor of City, which De Bruyne executed over the goal, then goalkeeper Peacock Farrell shone in blocking Riyad Mahrez's attempt.
The Burnley goalkeeper returned to save his goal when he blocked Haaland's attempt, but the Norwegian striker completed his hat-trick when he followed Foden's rebound from the post into the net.
The City attack did not stop, as Mahrez passed to De Bruyne, who in turn passed it from the right in front of the goal to Alvarez, who put it in the net.
Substitute Cole Palmer left his mark when he scored the fifth goal when Foden's shot bounced off the goalkeeper, and the young player easily followed it into the goal.
Argentine Julian Alvarez scored his second goal in the match, when he received a typical pass from De Bruyne, to get rid of the defender before hitting the net.
Alvarez missed the opportunity to score a hat-trick when he took advantage of goalkeeper Peacock Farrell's hesitation, then substitute Ashley Barnes hit the ball away, ending the match with City's victory (6-0).