Goals: Napoli – Salernitana – Played on 04/30/ 2023
Napoli Draws with Salernitana: Postpones Scudetto Decision
In the 32nd round of the Italian League, Napoli drew 1-1 with Salernitana, failing to secure the Scudetto title. Matias Oliveira scored Napoli's goal in the 62nd minute, while Boulay Dia equalized for Salernitana in the 84th minute. With this draw, Napoli reached 79 points in the lead, while the guests increased their score to 34 points in 14th place.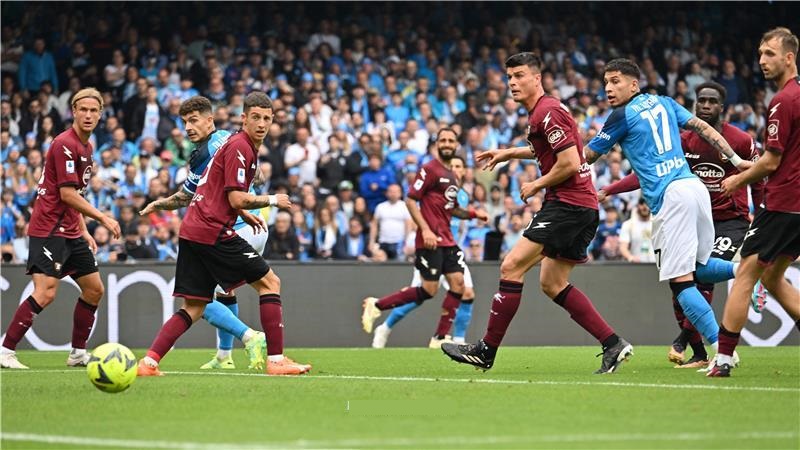 Opportunities for Napoli
Napoli had several opportunities in the first half, with Osimhen threatening Ochoa's goal just 66 seconds after the start of the match. The Nigerian striker had a clear opportunity with a header, but the goalkeeper made an excellent reaction to turn it into a corner. Minutes later, Osimhen had another header from a cross by Lobotka, but it easily reached the goalkeeper's hands.
In the 23rd minute, Di Lorenzo hit the top net of the goal with a header from a corner kick. Anguisa almost scored for Salernitana in the 41st minute, but Ochoa blocked and pushed his shot away from the goal.
Napoli's Goal and Salernitana's Equalizer
Napoli scored the first goal in the 62nd minute through Matias Oliveira's header. Elif Elmas had a chance to score a second goal, but Ochoa deflected his shot brilliantly. Salernitana left their area in search of a score adjustment, and Boulaye Dia succeeded in equalizing in the 84th minute with an excellent left shot into the net.
Ochoa's Brilliance
Ochoa continued to shine and denied Napoli the opportunity to score a fatal goal. In the 78th minute, he stopped Osimhen's powerful shot from a distance, and in the 87th minute, he brilliantly removed Kafara's perfect shot from the net.
Conclusion
The official league decision was postponed until further notice, and Napoli must continue to fight for the Scudetto title. Despite several missed opportunities, Napoli managed to score one goal, but Salernitana's Boulay Dia equalized to secure one point for his team. Ochoa's outstanding performance prevented Napoli from securing the Scudetto title in this match.