The Italian national team won a difficult victory over its Hungarian visitors, 2-1, in the match that brought them together today, Tuesday evening, in the second round of the group stage of the European Nations League.
Nicolo Barilla and Lorenzo Pellegrini scored the Azzurri goals in the 30th and 45th minutes, while the Italian Gianluca Mancini scored Hungary's only goal by owning an own goal in the 61st minute.
With this victory, the Italian team raised its score to 4 points to lead the group, while the Hungarian team's balance froze at 3 points in second place.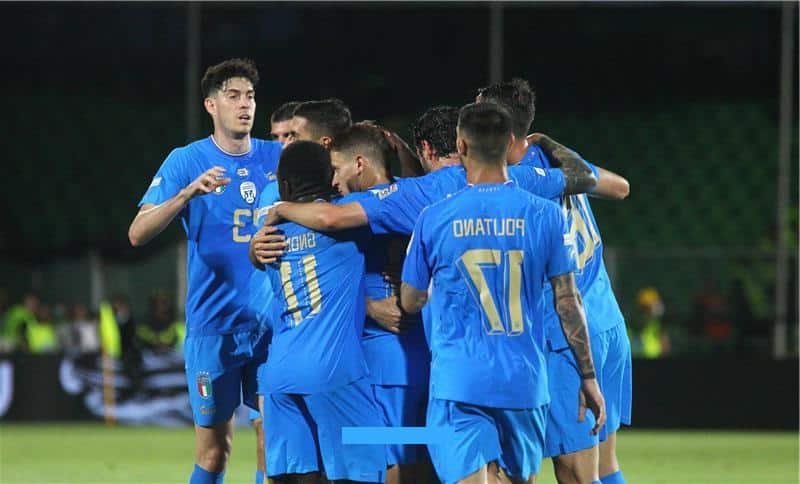 Italy had a real chance through Mancini, who met a cross with a strong header, but Hungarian goalkeeper Denis Desbos starred and kept her away from his goal.
Ronald Salai almost scored the first goal of the meeting in the 25th minute, had it not been for the skill of Italian goalkeeper Gigi Donnarumma, who excelled and saved a powerful shot from Salai.
And in the 30th minute, Nicolo Barilla managed to score the first goal in the match, after a pass from the left side of Spinazzola, which Barilla received on the penalty area circle to fire a missile into the net.
The Italian team doubled the score in the 45th minute, through Lorenzo Pellegrini, after a distinguished effort from Matteo Politano, who went from the right side into the penalty area and passed to Pellegrini, who hit the ball directly into the net.
At the beginning of the second half, the Hungarian team threatened Italy's goal, with a cross pass from the left, that almost reached Salai and was unique in the goal, but Donnarumma rushed out of his line and grabbed it.
Politano launched with a distinguished effort and penetrated into the penalty area to fire a rocket-propelled grenade that hit the crossbar in the 54th minute.
In the 61st minute, the Hungarian team reduced the score through Italy defender Gianluca Mancini, after a cross from the right side of Attila Viola, which Mancini touched and put in the net of his country.
Salai continued his glow in the match, and in the 69th minute, Hungary's players executed a quick counter-attack that reached Salai, firing a powerful shot from outside the area, and Donnarumma pushed it with his fingertips to a corner.
In the 89th minute, Manuel Locatelli ran from the right and penetrated into the area to dodge two Hungary players and shoot a ground shot that the goalkeeper managed to catch.