Jorginho 's missed penalty, Christian Pulisic scores a late winner.
Chelsea beat West Ham 1-0 at Stamford Bridge on Sunday afternoon, putting an end to their recent poor home form.
Chelsea beat West Ham 1-0 at Stamford Bridge on Sunday afternoon,
putting an end to their recent poor home form after Jorginho 's missed penalty.
The first half was very quiet between the two teams, as Thomas Tuchel's Blues were unable to string together anything of importance in the final third.
When the Blues returned for the second half,
they rapidly began to put more together in the final third, though they were still unable to break the tie.
After a gruelling 90 minutes of play,
substitute Christian Pulisic scored the game's winning goal in the final minute, giving the Blues all three points.
Chelsea were unlucky in the warm-up before the game on Sunday,
as Andreas Christensen was ruled out due to stomach cramps.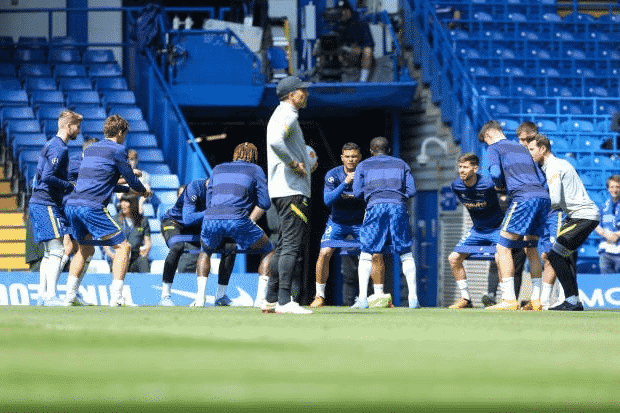 Except for Said Benrahma standing on Cesar Azpilicueta's foot,
tearing his boot and forcing him to swap, there wasn't much action between the two sides in the first 10-15 minutes.
In the 17th minute, Benrahma got his team's first attempt on goal, but Edouard Mendy had it all under control.
Trevoh Chalobah got the ball trapped in his feet a minute later,
but he was able to make amends by quickly regaining possession.
Watch the winning goal of Chelsea today!!!
Chelsea has lost three successive home games as a result of a series of defensive errors in recent weeks.
Timo Werner, Mason Mount,
and Kai Havertz led the Blues on multiple attacks in the first half, but they were lethargic and indecisive in the final third.
N'Golo Kante was force to pitch in on many occasions to inject some flair,
but Thomas Tuchel's team struggled to put anything together.
Tuchel's team's every attempt was quickly thwart by West Ham's tenacious defence in numbers.
David Moyes' strategy appeared to be to save players like Declan Rice and Jarrod Bowen for Thursday's European night.
Instead, the east Londoners held the lines, preventing the Blues from creating many chances, and tried to break on the counter-attack when they could.
Timo Werner came agonisingly close to scoring as the ball fell to him on the volley from eight yards out after 74 minutes. Fabianski was on hand to deal with the situation once more.
Havertz, Werner, and Loftus-Cheek were all replaced by Romelu Lukaku, Hakim Ziyech, and Christian Pulisic a minute later.
Craig Dawson, who had been outstanding in the West Ham defence, hauled down Romelu Lukaku inside the area with less than 10 minutes remaining in the game, surrendering a penalty.
Dawson was awarded a red card after a swift VAR judgement for denying Lukaku a clear goal-scoring opportunity.
However, Jorginho stepped up to take the penalty and fired it straight into Fabianski's gloves, which was a massive letdown for West Ham.
To the Blues' dismay, a quick low cross from Marcos Alonso saw Christian Pulisic ultimately strike the back of the Irons' net in the 90th minute, securing a late victory for the Blues.