match summary: Crystal Palace – Liverpool – Played on 02/25/ 2023
Liverpool continued to bleed points in the English Premier League, with a goalless draw against its host, Crystal Palace, in the 25th round of the competition.
Each team settled for a point, as Liverpool temporarily rose to seventh place with 36 points, with its seventh tie in the Premier League, and it has two postponed matches left.
While Crystal Palace raised its score to 27 points in 12th place, achieving the ninth draw.
Liverpool coach Juergen Klopp and his players did not succeed in overcoming the earthquake of the loss to Real Madrid (2-5) in the Champions League, and he overcame his local awakening by winning two consecutive matches in the league championship.
Klopp made 4 adjustments to the starting line-up, but the team made a very lackluster performance in the first half, and only one goal was threatened by Diogo Jota, while Mohamed Salah and Jakpo lost a lot in light of the modest level of the midfield trio Milner, Henderson and Naby Keita.
As for the owners of the land, t hey were not better off, except that John Matita, the Crystal Palace striker, missed a certain opportunity after the quarter-hour mark, as he did not take advantage of a fatal mistake from Arnold, who accidentally passed the ball to him.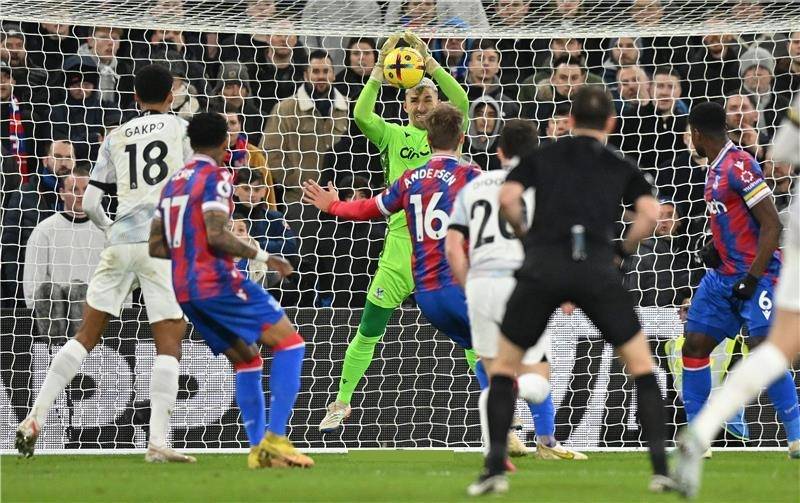 The trio of Jordan Ayew, Lokonga, and Geoffrey Schlupp also disturbed the Liverpool defense, but they lacked concentration in the final touch in front of Alisson's goal.
Liverpool's performance improved relatively in the second half after Harvey Elliott came on for Naby Keita, but luck ran out against Mohamed Salah, as the Egyptian star hit the crossbar with a wonderful shot.
Fabinho and Roberto Firmino took the place of Arnold and Jota, hoping to improve performance in midfield and attack, but to no avail.
And 10 minutes before the end of the match, Salah passed a golden ball to Cody Jakobo, but the Dutch striker wasted completely alone, after which he left the stadium to replace Stefan Paisic.
On the other hand, Frenchman Patrick Vieira, coach of Crystal Palace, managed to organize his team, and came out with a positive result at home and in the midst of his fans in the stands of Selhurst Park, to renew the sorrows of Liverpool, and to strengthen his position in moving forward to compete for the qualified places to participate in the European Championships.