goals: Poland – Saudi Arabia – Played on 11/26/ 2022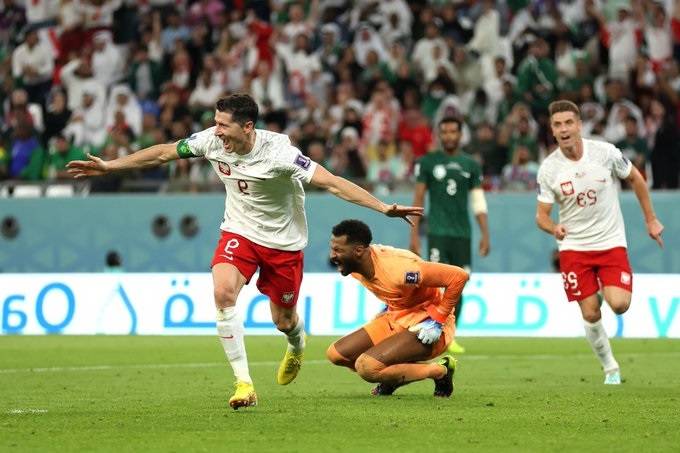 Poland snatched an important victory over Saudi Arabia today in the second round of Group C, with a double-to-nil match
The Saudi national team started the Poland match with a formation consisting of:
Goalkeeper: Mohammed Al Owais.
Defense: Muhammad Al-Buraik, Ali Al-Bulayhi, Abdullah Al-Omari, Saud Abdul-Hamid.
Middle: Abd al-Ilah al-Maliki, Sami al-Naji, Muhammad Kno.
Attack: Firas Al-Buraikan, Saleh Al-Shehri, Salem Al-Dosari.
The composition of the Polish national team is as follows:
Goalkeeper: Wojciech Cesini.
Defense: Manny Cash, Kamil Celik, Jacob Kubior, Bartosz Berezinski.
Midfielders: Przemyslaw Frankowski, Christian Bilic, Gregory Krychowiak, Piotr Zielinski.
Attack: Robert Lewandowski, Arkadiusz Milik.
The Saudi national team entered the Poland match with confidence and high morale after the historic achievement
it achieved against Argentina, and the extent of the tactical maturity of the Arab team became clear during the match
the match and its success in outperforming the Tango squad led by world star Lionel Messi.
On the other hand, the Saudi national team has high hopes for its star, Salem Al-Dosari,
who has been presenting good levels during the recent period, until he is called the man of great occasions, the latest of which is his wonderful goal against Argentina?
And the Saudi team started the match with great enthusiasm and missed more than one attack until the Blondie team managed to snatch the equalizer.

Then the Saudis can get a penalty kick, but Salem Al-Dosari misses it
And in an attempt to take advantage of the green to equalize, Robert Lewandowski scored the second goal
in favor of the Polish national team against Saudi Arabia in the 82nd minute of the events of the second half, bringing the score to 2-0.
In the match that brought them together at the Education City Stadium, in the second round of Group C of the 2022 World Cup in Qatar.
The Saudi national team, which is participating in the World Cup finals for the sixth time in its history, will play in Group C in the World Cup, along with the teams of Argentina, Mexico and Poland.
The Saudi team becomes one point and the Poland team four points