Introduction
On September 8, 2023, Portugal demonstrated their supremacy in the Euro 2024 qualifiers by clinching a decisive 1-0 victory against Slovakia, affirming their unbeaten streak and firm grip on the top spot in Group 10.
Fernandes' Magic Moment
The pivotal moment of the match arrived in the 43rd minute of the first half when the midfield maestro Bruno Fernandes delivered a sensational strike, securing Portugal's lead and setting the stage for an exceptional performance.
Portugal's Dominance
Throughout the match, Portugal showcased their tactical brilliance, controlling the tempo and possession. Their resilience in defense combined with fluid attacking plays exemplified their prowess in international football.
A Tale of Missed Opportunities
The initial ten minutes witnessed a cautious approach from both sides, with neither team making significant inroads. However, the match soon ignited with Robert Policka's attempt from inside the penalty area, brilliantly saved by Portugal's goalkeeper, Diogo Costa.
Ronaldo's Influence
Cristiano Ronaldo, Portugal's talisman, played a pivotal role, continually pressuring Slovakia's defense. Ronaldo's vision and precision allowed Bruno Fernandes an opportunity to test the Slovakian goalkeeper Martin Dubravka, but the shot lacked the necessary power.
Slovakia's Resilience
Slovakia displayed determination and nearly leveled the score early in the second half. Ivan Schranz found himself inside the penalty area with a clear opportunity but failed to capitalize, much to Slovakia's disappointment.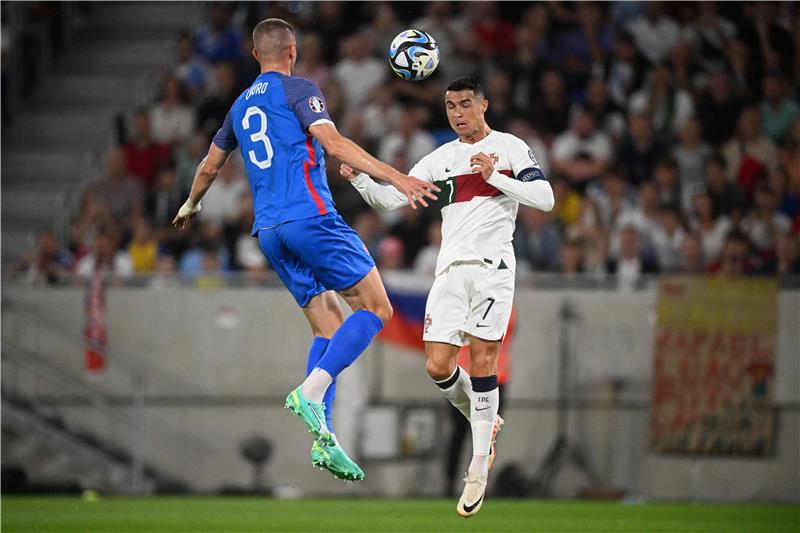 Late Drama and Ronaldo's Near Misses
In the latter stages of the match, Slovakia intensified their efforts to break through Portugal's resolute defense, seeking a late equalizer. However, their attempts lacked the finishing touch.
Cristiano Ronaldo had several chances to extend Portugal's lead, but Dubravka thwarted his efforts, and a collision between Ronaldo's foot and Dubravka's head earned the Portuguese captain a yellow card.
Portugal's Perfect Record Preserved
Ultimately, Portugal's tactical mastery and ability to capitalize on key moments allowed them to maintain their perfect record in the Euro 2024 qualifiers. Their 1-0 triumph over Slovakia solidified their position at the top of Group 10, leaving them in prime position to secure their place in the upcoming Euro 2024 tournament.
In summary, Portugal's victory over Slovakia was not only a testament to their tactical prowess but also a crucial step towards their Euro 2024 qualification aspirations. Bruno Fernandes' goal provided the spark, while Ronaldo's influence and Slovakia's resilience made for a thrilling match.