Goals:Real Madridn-Atletico_Madrid-Played on 01/26/ 2023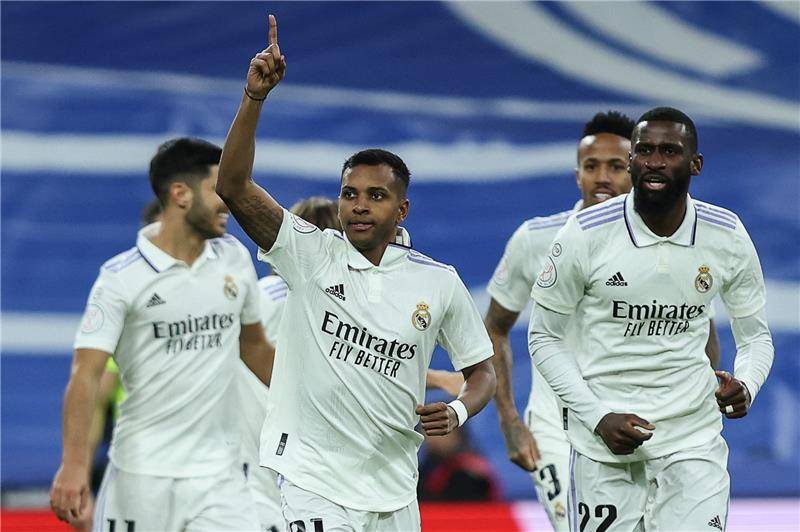 Real Madrid defeated Atletico Madrid (3-1), Thursday evening, at the Santiago Bernabeu, in the quarter-finals of the King's Cup.
Morata scored Atletico's goal in the 19th minute, while Real Madrid's hat-trick Rodrigo, Karim Benzema, and Vinicius Junior scored in the 79th, 104th, and 120th minutes.
Atletico Madrid had completed the match with 10 players after its defender Stefan Savic was sent off in the 99th minute in the first overtime.
The contract for the teams participating in the semi-finals was completed, with the presence of Barcelona, ​​Real Madrid, Athletic Bilbao, and Osasuna, where the semi-final draw will be held next Monday.
The match started with Real Madrid's control, and the first attempt came with a through pass from Benzema toward Vinicius Junior, but Atletico Madrid's defense dispersed it.
Molina passed a cross towards Alvaro Morata, who escaped from control and with one touch scored against Courtois, so Atletico Madrid took the lead in the 19th minute.
Fede Valverde hit a ball from outside the penalty area, which was easily saved by Jan Oblak, then Korea hit an easy ball, which was caught by Thibaut Courtois.
The referee of the match awarded a free kick to Real Madrid, executed by Toni Kroos, and reached Eder Militao, who shot wide of Oblak's goal.
Real Madrid's attempts continued without any real effectiveness, so the first half ended with Atletico advancing with an unanswered goal scored by Alvaro Morata.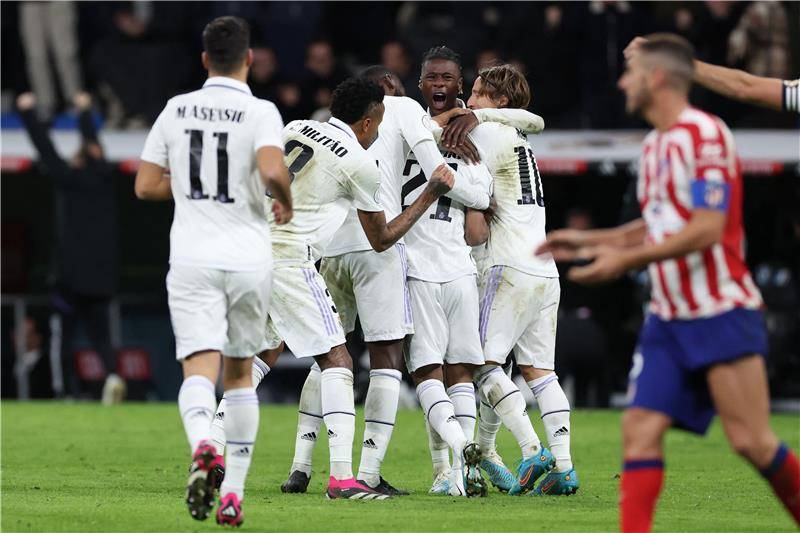 And with the start of the second half, Real Madrid continued to press, relying on cross balls inside the area, but without good use.
Valverde hit a ball that passed over the goal, then Benzema hit a ball that Oblak saved, to bounce back in front of Vinicius, who failed to put it into the net.
The referee awarded a direct free kick to Atletico Madrid, which was executed by Antoine Griezmann, who shot hard, and Thibaut Courtois turned it into a corner.
Vitsel almost snatched the second goal for Atletico Madrid, as he received an accidental ball and hit a double kick that passed next to Courtois' right post.
Substitute Rodrigo succeeded in scoring the equalizing goal in the 79th minute when he set off and dodged the defense with individual skill and hit the face of the foot to score Oblak's net.
And the regular time ended (1-1), and Savic violently interfered with Camavinga in the 99th minute, so that the referee declared the second yellow card in his face and the expulsion.
Benzema succeeded in scoring the second goal in the 104th minute, as Asensio passed a cross into the penalty area and reached Benzema, who scored.
Vinicius killed Atletico Madrid with the third goal in the 120th minute, as he received a pass from Ceballos, launched with an individual effort, and then scored Oblak's net.