Goals: Nottingham Forest – Manchester United – Played on 01/25/ 2023
Manchester United put forward, in the final match of the English Professional Clubs Cup competition, by defeating its host Nottingham Forest (3-0), in the first leg of the semi-finals, on Wednesday night.
Marcus Rashford scored the first goal for United in the sixth minute, then Fout Vighurst (45) and Bruno Fernandez (89) added the reinforcement goals.
The return match between the two teams will be held at Old Trafford next Wednesday.
Early goal
United managed to open the scoring in the sixth minute, after a distinguished breakthrough by Rashford from the left, so he made his way between two defenders, and shot into the near corner of the goal.
Anthony almost added the second goal in the eighth minute, but his curved shot went a little far from the goal, and the same player returned with a similar attempt, which missed the net in the 14th minute.
Nottingham Forest scored a goal in the 22nd minute through Surridge, but the VAR ruled it out due to offside.
Manchester United's defense removed the danger of a corner kick, and the ball reached Scarpa, who fired from the first touch, but goalkeeper David De Gea was on the lookout for him in the 26th minute.
Johnson got rid of two defenders before he recklessly shot over the goal in the 31st minute, and moments later Anthony missed a golden opportunity to extend his team's lead, after he received a pass from Fernandez, to hit a ground ball that Hennessey removed with his leg.
Fighurst imprint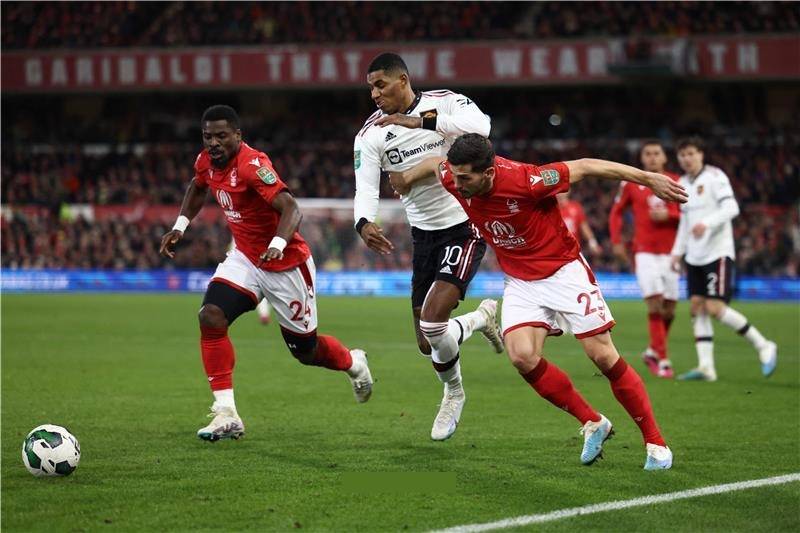 In the last minute of the first half, Vighurst increased Manchester United's lead with a second goal, when he followed into the net, a rebound from the goalkeeper, following a shot from Fernandez.
United started the second half attacking, as Anthony passed to Vighurst, but McKenna pushed the ball away from him in the face of the goal in the 48th minute.
Eriksen got a pass from Anthony, to fire a shot from outside the penalty area, and it bounced off the crossbar outside the field in the 54th minute.
Alejandro Garnacho entered the Manchester United squad in place of Rashford, and Gibbs White snatched the ball from Casemiro, before directing a shot just over the goal in the 60th minute.
fatal blow
The course calmed down with the passage of time, and Fred and Facundo Pellestri entered Eriksen and Anthony's place, and Nottingham substitute Neco Williams lifted a cross, the other substitute and the former Manchester United player misjudged by wrongly rising in the 74th minute.
Fred's shot settled in the stands in the 78th minute, and one minute later, Vighurst's header moved away from the goal, following a cross from Pellestri.
The final minutes passed without danger until Fernandez managed to score United's third goal in the 89th minute, after the ball reached him from substitute Antonio Elanga, to shoot it low into the net.