Goals: Real Madrid – Espanyol – Played on 03/11/ 2023
Real Madrid achieved a valuable victory (3-1) against its guest, Espanyol, this afternoon, Saturday, at the Santiago Bernabeu Stadium, in the 25th round of La Liga, to regain its balance after a goalless draw with Real Betis in the last match.
Real Madrid scored the goals: Vinicius Junior, Eder Militao, and Marco Asensio, in the 23rd, 39th, and (90 + 3) minutes, while the only Espanyol goal was scored: Joselo in the 8th minute.
With this victory, Al-Merengue raised its tally to 56 points in the runner-up, 6 points ahead of leaders Barcelona, while Espanyol froze at 27 points, in thirteenth place.
The match began under pressure from the guests, as Martin Braithwaite hit a ball from inside the penalty area, which hit Militao, Real Madrid defender, to pass over the crossbar in the 2nd minute.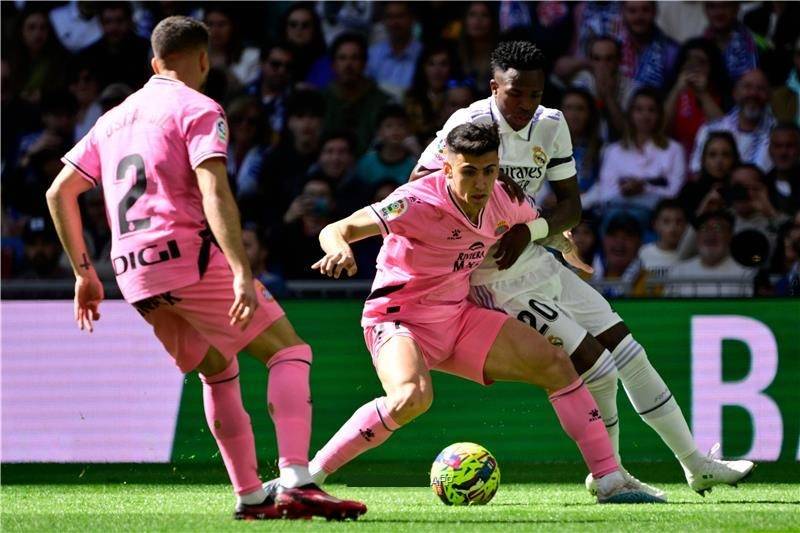 Joselo succeeded in scoring the visitors' early lead, in the 8th minute, when he received a pass deep in the penalty area from his colleague Ruben Sanchez and hit the far left of goalkeeper Thibaut Courtois.
Vinicius Junior scored the equalizer for Real Madrid, in the 23rd minute, when he received a pass from Toni Kroos, and shot hard at goalkeeper Pacheco.
Militao was able to put the Meringue in the lead, in the 39th minute, after receiving a cross from his teammate Tchoamini from the left side, and he rose and hit the head so that the ball hit the crossbar and entered the net.
At the start of the second half, Joselo tried to threaten Real Madrid's goal with a surprise shot, but Courtois was on time and blocked it, in the 48th minute.
Toni Kroos tried to shoot from outside the penalty area, but the ball passed over the Espanyol goal, in the 70th minute.
Rodrigo almost snatched the royal team's third goal, in the 75th minute, with a free kick that hit the horizontal bar, and goalkeeper Pacheco just watched it.
Pacheco shone in blocking a butt shot from Rodrigo, then another shot from Vinicius Junior.
Marco Asensio added Real Madrid's third goal, in the 93rd minute, after Nacho kicked off and passed a ball to him deep in Espanyol's defense, and with one touch with his left foot, he hit the left of the goalkeeper, so the match ended with the victory of the hosts (3-1).