Video goals: Cacereno-Real Madrid-Played on 01/03/2023
Real Madrid achieved the victory (1-0) during the match against Cacerinho, this evening, Tuesday, in the 32nd round of the King's Cup of Spain.
The only goal of the match for Real Madrid was scored by Brazilian Rodrigo Joyce in the 69th minute.
The match started with Real Madrid's control and possession of the ball, and Lucas Vazquez actually succeeded in scoring the lead goal in the 14th minute, but the match referee canceled it due to offside passer Marco Asensio.
Danny Ceballos shot a ball inside the penalty area, which was saved by Ivan Moreno, goalkeeper Caserinho, in the 16th minute.
Real Madrid goalkeeper Lunin shone in blocking a surprise shot in the 38th minute, keeping his net clean.
The 40th minute witnessed a dangerous attempt by Real Madrid, as Asensio passed a ball towards Rodrigo, who hit a ball that was dispersed by defender Molina, a player of Caserinho.
The first half ended in a goalless draw.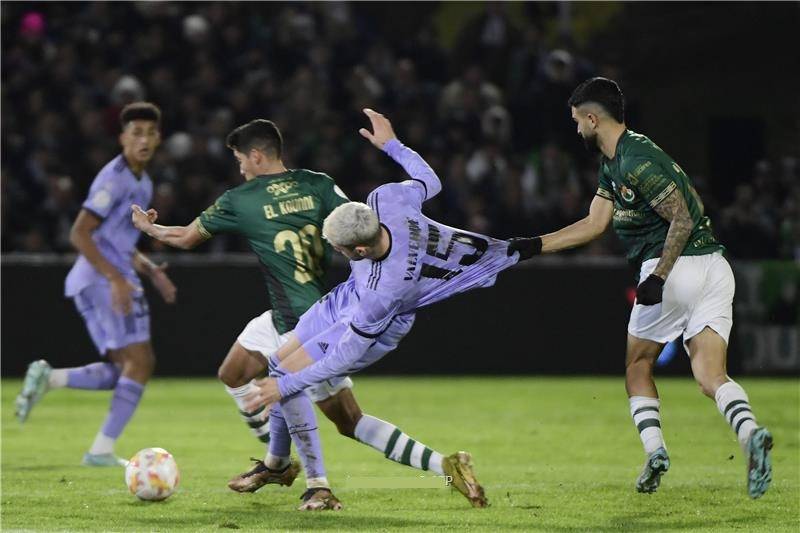 At the start of the second half, Ivan Fernandez, a player of Cacerinho, tried to shoot from inside the penalty area, but Andrei Lunin, Real Madrid goalkeeper, saved it easily in the 57th minute.
Lunin continued his saves to the attempts of the players of Cacerinho, as he caught a ball that was shot by one of the opponent's players in the 60th minute.
From a reverse attack, Real Madrid succeeded in snatching the lead in the 69th minute, as he received a pass from Dani Ceballos and, with a distinguished individual effort, launched and shot to the left of the goalkeeper.
Calm appeared from both teams after the goal, until Cacerinho's Garci hit a ball from a long distance over Lunin's goal in the 84th minute.
The last minutes did not witness any significant danger so Al-Merenji decided to cross the 16th round of the tournament.