The German national team imposed a 1-1 draw with Italy!, today, Saturday, at the start of
their campaign in the group stage of the European Nations League.
The Italians advanced with a goal through Lorenzo Pellegrini in the 70th minute, but the
German response came only 3 minutes after the signing of Joshua Kimmich.
With this result, the two teams finished second and third in Group C in the first level with
one point, behind Hungary, which is leading with 3 points.
The Italian team missed the danger in the first minutes, while the visiting team was the first
to threaten through more than one opportunity, the first of which was Sani's shot on the
edge of the penalty area, but it went wide.
The most dangerous German attack was the one that ended with a powerful shot by Gnabry from the center of the penalty area, but his ball passed near the post.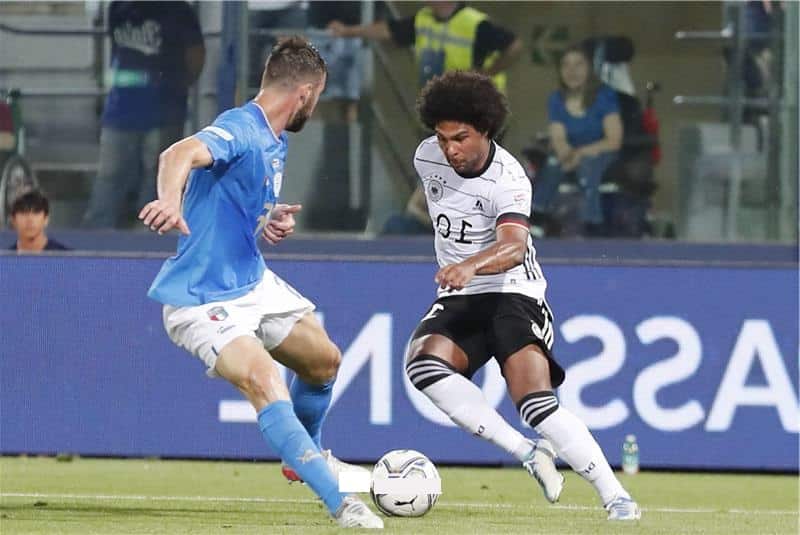 The hosts appeared for the first time after a quarter of an hour from the start of the match
through a long-range shot fired by Frattisi, but it went wide of the goal.
A new chance was given to the Manchaft after a ball reached Goritska on the border of the
region, to direct it with a missile shot over the goal.
Frattisi appeared again, threatening Manuel Neuer's goal with a creeping ground shot that
passed next to the post, before Scamaka got a ball outside the penalty area, to prepare it for
himself and fired a ground shot that hit the post and turned outside the field, so that the
first half ended in a goalless draw.
Italy vs Germany
The beginning of the second half almost witnessed the Azzurri advance with a first goal
after a cross hit Scamaka, who tried to head it into the net, but his attempt was not accurate
enough.
Skamaka returned to threaten Neuer's goal again after receiving a ball inside the penalty
area, and prepared it for himself before shooting it at the bird, to settle in the arms of the
German goalkeeper.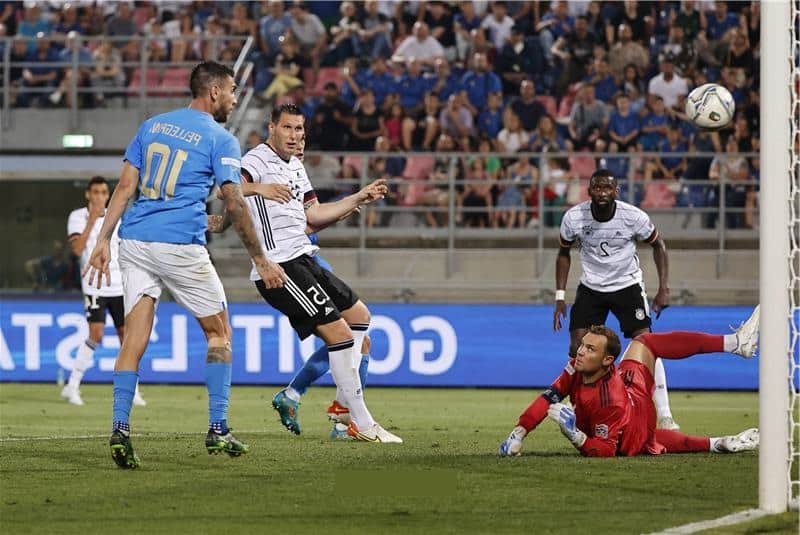 The Italian crawl continued uninterrupted, and the attempt came this time through Pellegrini, who launched the ball from the right side of the penalty area before firing a dangerous left shot, which passed near the goal.
And coach Roberto Mancini's men got their way in light of the continuous attempts to advance, with a goal after a cross sent by substitute Gontoto towards Pellegrini, who easily directed the ball into the net.
The Germans quickly equalized in a similar way after a cross was sent into the area, hitting the ball with one of the defenders and preparing for Kimmich, who put it in the net.
Italian goalkeeper Donnarumma stood in the way of Kimmich's arrival in the net again by blocking a creeping ground shot, so the minutes passed without anything new and the tie settled tonight's summit.