Goals: Arsenal – Everton – Played on 03/01/ 2023
Arsenal topped the Premier League, today, Wednesday, by defeating Everton (4-0), in a postponed match from the seventh round.
Arsenal's goals were scored by Bukayo Saka (40), Gabriel Martinelli "two goals" (45 + 1 and 80), and Martin Odegaard (71).
Arsenal's balance rose with this victory to 60 points, 5 points ahead of second-placed Manchester City, while Everton's balance froze at 21 points in 18th place.
first half
The match started with Arsenal dominating, but Everton was the first to fire a shot at the two goals when Mobay tried his luck with a long-range ball, which was removed by goalkeeper Aaron Ramsdale in the seventh minute.
Randomly marred the games of the two teams after 10 minutes had passed, and neither of them could pose a danger to the other. Everton launched a counterattack in the 28th minute, but Doucouri's ball did not find anyone watching it in front of the goal.
And Arsenal managed to open the scoring in the 40th minute, when Zinchenko glimpsed his teammate Saka alone without control inside the penalty area, to pass to him, so the English international controlled the ball and shot into the near top corner of the goal.
And in stoppage time in the first half, Arsenal added the second goal, when Jaya lingered in dealing with the ball, to be passed by Saka towards Martinelli, who fired into the net easily.
Second half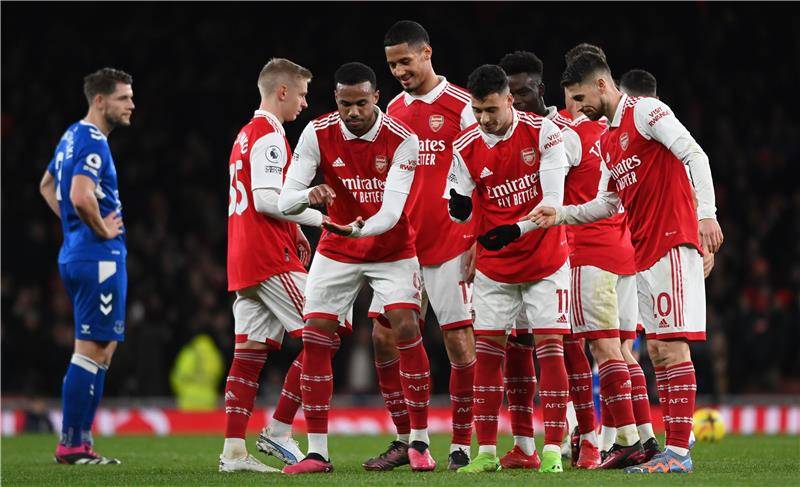 Thomas Partey entered Arsenal's squad at half-time, replacing Jorginho, and Everton pressed to try to get back into the game, as Mobay fired a shot from outside the penalty area that went wide in the 54th minute.
Arsenal almost added the third goal in the 57th minute, when a cross hit the far post to Trossard, who followed it away from the goal.
Everton refused to give up, and the ball reached McNeil, who directed a powerful shot. Goalkeeper Ramsdale shone in banishing it in the 62nd minute.
But Arsenal destroyed Everton's hopes of returning to action, by scoring the third goal in the 71st minute, when Trossard received a through pass from Xhaka on the left side, so he advanced the ball, before passing in front of the goal towards Odegaard, who followed it directly into the net.
Arsenal added the fourth goal in the 80th minute when Zinchenko passed a smart ball toward Nketiah on the left side, and the latter prepared the ball in front of the goal for Martinelli, who followed it into the net from close range.
Arsenal came close to adding the fifth goal in the 84th minute, but Vieira's attempt was rebounded from defender Tarkovsky.