Goals:Rayo vallecano – Atletico Madrid – Played on 08/28/ 2023
In a striking exhibition of power, Atlético Madrid showcased their dominance by securing a convincing victory over Rayo Vallecano in the culmination of the 3rd round of La Liga. The clash between these neighboring Madrid squads created a spectacle, highlighting two unbeaten teams at the season's outset. Despite their closely matched records, the encounter unfolded as a one-sided affair, with the Colchoneros firmly establishing their supremacy on the pitch.
A Decisive Encounter in the Capital
This Monday saw Atlético Madrid make a brief journey to the heart of the Spanish capital to take on Rayo Vallecano. The match not only pitted two local rivals against each other but also brought together two teams that had managed to maintain their unbeaten status since the season's kickoff.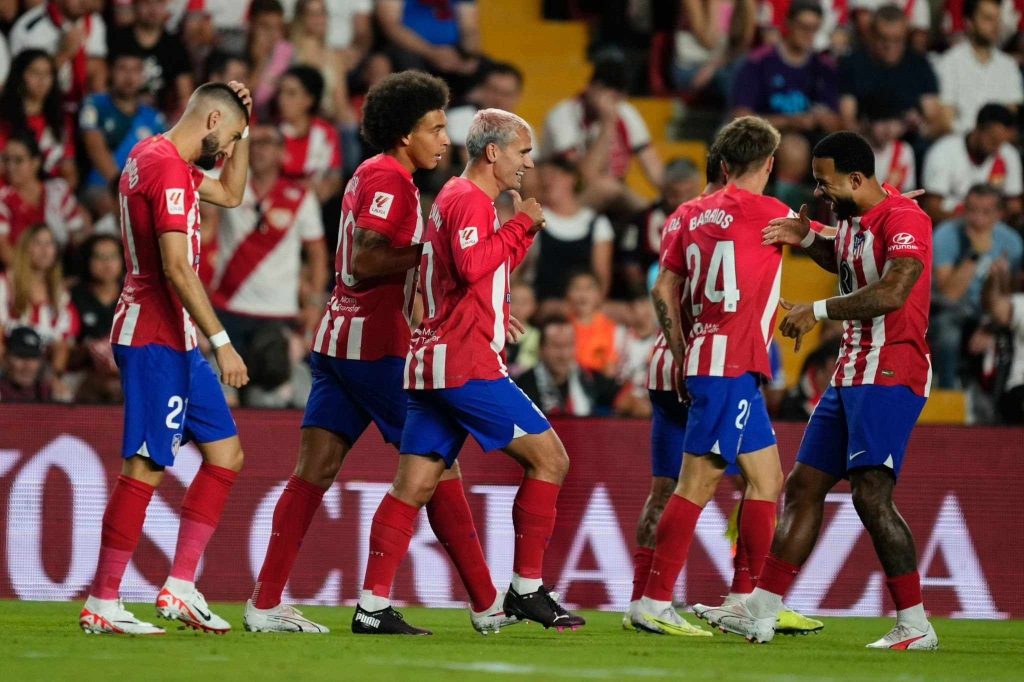 Colchoneros Showcase Their Might
However, the equilibrium of their records wasn't evident on this particular night, as the Colchoneros showcased their superiority. Right from the outset, Diego Simeone's team asserted control and surged ahead. The score quickly tilted in Atlético's favor, with Antoine Griezmann netting a goal in the 2nd minute, followed by Memphis Depay's contribution in the 16th minute.
Nahuel Molina Extends the Lead
As the first half approached its conclusion, Nahuel Molina further extended Atlético's lead with a goal in the 36th minute, solidifying their dominance on the scoreboard.
A Resounding Outcome
The encounter demonstrated Atlético Madrid's ability to take control of the match, leaving no room for doubt regarding their superiority. The victory not only secured their prominent position in the league but also underlined their strength and strategic acumen.
Conclusion
Atlético Madrid's resounding victory over Rayo Vallecano serves as a testament to their prowess and skill on the field. As they continue to navigate the challenges of the La Liga season, this commanding win provides a glimpse of their determination to succeed and establish their dominance in the league.