Goals: Athletic Bilbao – Barcelona – Played on 03/12/ 2023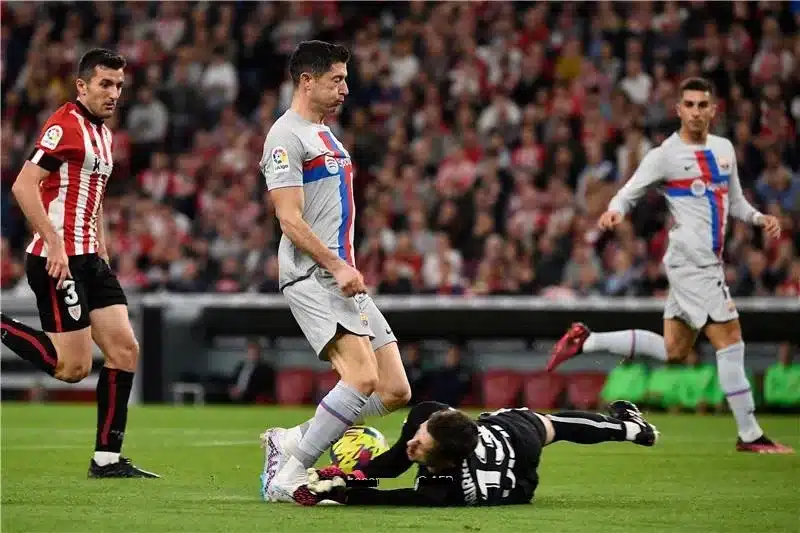 Barcelona achieved a difficult victory over its host, Athletic Bilbao, this evening, Sunday, in the 25th round of the Spanish League, at San Mames Stadium.
The only goal of the match for Barcelona was scored by Rafinha, in the minute (45 + 1).
With this victory, Barça raised its score to 65 points at the top of the Liga table, while Athletic Bilbao froze at 33 points, in ninth place.
The match began with pressure from the guests, and Barcelona striker Ferran Torres hit a ball that passed over Bilbao's goal, in the 2nd minute.
The response came quickly from the owners of the land, with a shot from Neco Williams, which hit the outside net.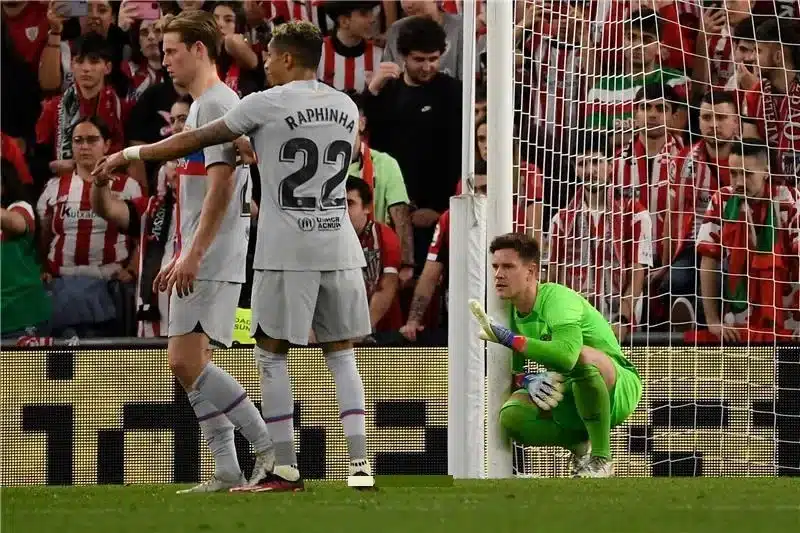 Jules Conde, the Barcelona defender, presented a gift on a plate of gold with a fatal mistake in front of Berenger, but the latter did not take advantage of it, and he recklessly shot in the 24th minute.
Ter Stegen excelled in blocking a shot by Iñaki Williams, turning the ball into a corner in the 32nd minute.
Raul Garcia, the player of Athletic Bilbao, almost opened the scoring for his team, had it not been for the horizontal crossbar, which returned his shot, in the 33rd minute.
Rafinha succeeded in scoring the lead goal for Barcelona, in the 46th minute, after receiving a pass from his colleague Busquets deep in Bilbao's defense, and he hit the bottom right of the goalkeeper.
The referee indicated at the beginning that there was offside, but the return to video technology confirmed the validity of the goal.
In the second half, Baldi quickly set off on the left side and sent a perfect cross towards Lewandowski, who rose and hit a header that passed by the right post of Bilbao's goal, in the 52nd minute.
Berenguer, the player of Bilbao, almost snatched the equalizer in the 72nd minute, as he hit a ball that was brilliantly saved by Ter Stegen.
The German goalkeeper also excelled in blocking a curved shot, from inside the penalty area, by Bilbao player Iker Muniain, and turned it into a corner in the 78th minute.
Inaki Williams succeeded in scoring a goal for Bilbao, in the 87th minute, when he received a ball behind Barcelona's defense, went very quickly, and shot to the right of Ter Stegen.
But the referee of the match returned to video technology, and canceled the goal, claiming that there was a handball from the start on Muniayein.
It was a decision that sparked a huge public outcry at the San Mamés stadium, and the Bilbao players strongly objected to the referee, claiming that the ball touched their colleague's shoulder, not his arm.
Barcelona managed to maintain its lead (1-0) until the end, despite the intense pressure and dangerous opportunities for Bilbao.