Goals: Juventus -Sampdoria – Played on 03/12/ 2023
Juventus defeated Sampdoria (4-2), this evening, Sunday, at Allianz Stadium, in the 26th round of the Italian League.
The Juventus quartet scored each of Bremer in the 11th minute, Adrien Rabiot "double" in the two minutes (26 and 64), and Matthias Sully in the "90 + 4" minute.
While Thomas Ojello in the 31st minute and Philip Djuricic in the 32nd minute scored a Sampdoria double against the Bianconeri.
Juventus raised its score to 38 points, to jump to seventh place, while Sampdoria's balance froze at 12 points, in the "last" 20th place.
The start was from Sampdoria, when Gabbiadini set off, penetrated into the area, and hit a ball that passed near the left post of Perrin.
The ball reached Duriicic, who passed it to Gabbiadini, who kicked off and fired a powerful shot that went into the arms of goalkeeper Perrin.
Kostic executed a corner inside the area, and Brazilian defender Bremer rose higher than everyone else to convert it with a perfect header into the net in the 11th minute.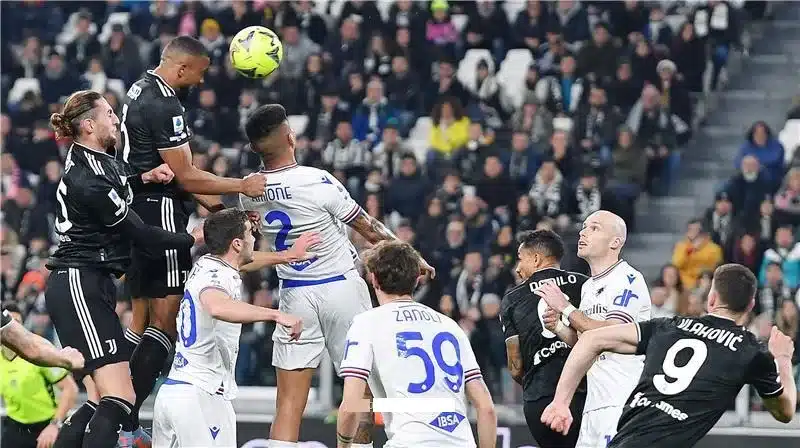 Rabiot missed an opportunity after Meriti kicked off the ball and passed it to Adrian, who was in a good position to shoot but decided to pass it to the Sampdoria defense.
And the Frenchman Rabiot managed to score the second goal in the 26th minute, after Meriti crossed from the right, to be met by Adrian with a header in the net.
Sampdoria reduced the score after the ball reached Rincon to try to pass it and hit the defense and pass to Ojello, who scored the net in the 31st minute.
A minute later, Sampdoria equalized after a distinguished breakthrough by Alessandro Zanoli from the right side, to pass a cross, which Duriicic met in the net.
At the start of the second half, Juventus coach Allegri pushed Cuadrado and Locatelli instead of Bonucci and Parinecchia, and De Sciglio moved to play as a defender.
Rincon passed a cross from the left into the area, which was met by Mahdi Laharis with a dangerous header, but it passed safely near the left post of Perrin.
Rabio scored Juve's third goal in the 64th minute, after a ball he received at the border of the area, to fire a powerful shot that hit Sampdoria's net.
Juventus got a penalty kick in the 67th minute after blocking Cuadrado, and Vlahovic hit it to the right of the goalkeeper, hitting the post and passing out.
Vlahovic received Kostic's pass to fire a shot that bounced off the defense and reached Sully, who shot with his left foot, but goalkeeper Turk pushed it away.
In the 90 + 4 minute, Juventus scored the fourth goal, after a cross that Vlahovic met with a header that was blocked by the goalkeeper, to bounce back, and Sully followed it into the net.