Goals: Villarreal – FC Barcelona – Played on 02/12/2023
Barcelona continued to tighten its grip on the top of the Spanish League, and overcame a new obstacle after achieving a valuable victory (1-0) at its host Villarreal, today, Sunday, in the 21st stage of the competition.
Barcelona's balance, which continued its uprising in the championship by achieving its 18th victory in the competition during the current season and the sixth in a row, rose to 56 points in the lead.
Barcelona widened the difference to 11 points against Real Madrid, who plays with Elche next Wednesday after the royal team came from the Club World Cup, which it crowned for the fifth time in its history.
On the other hand, Villarreal's balance, which suffered its eighth loss in the competition this season, stopped at 31 points in eighth place.
Pedri assumed the starring role in the match after scoring Barcelona's only goal in the 18th minute, to give the team considerable strength before facing Manchester United, next Thursday in the European League.
first half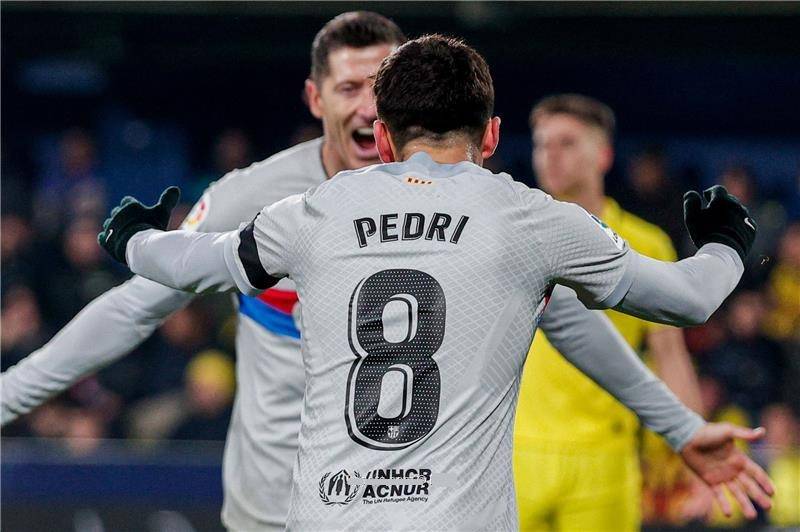 The match started with pressure from Barcelona, and Pedri passed a ball towards Lewandowski, who was alone with goalkeeper Reina, but the latter shone and blocked the ball.
Pedri sent a cross into the penalty area, which reached Christensen, who hit a header that went over the horizontal bar of Villarreal's goal.
Pedri succeeded in scoring the lead goal for Barcelona ​​when he exchanged passes with Lewandowski before he shot to the right of goalkeeper Reina.
Brazilian Rafinha hit a free kick that hit the post of Villarreal, wasting the opportunity to add the second goal to the Blaugrana.
Coquelin fell to the ground after a strong tackle with Frank Casey and was unable to get up again, as the Villarreal medical team intervened.
Coquelin was quickly taken off the field crying, indicating that it was a serious injury, and then the first half ended (1-0).
Second half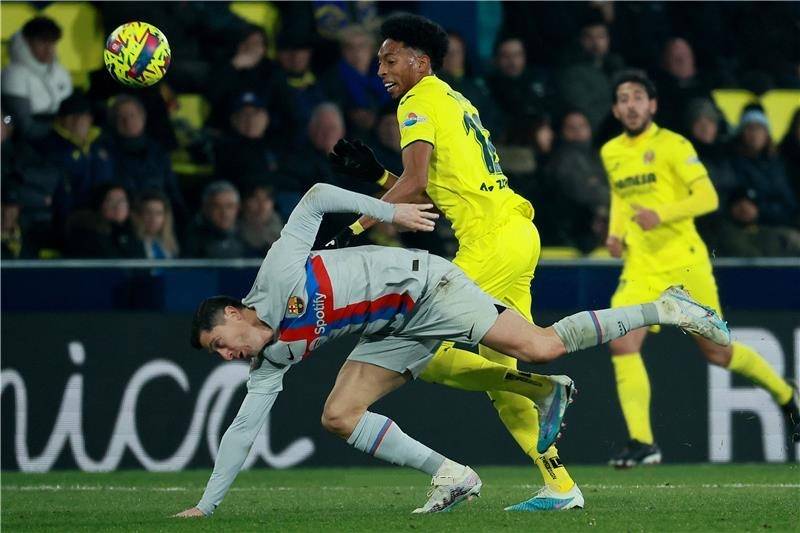 At the start of the second half, Lewandowski hit a powerful header that passed over the horizontal bar of Reina's goal.
Lewandowski passed a ball towards his colleague Rafinha, who received and hit a ball that passed by the right post of Villarreal's goal.
Villarreal player Bayena tried to threaten Barcelona's goal with a powerful shot from afar, which passed over Ter Stegen's goal.
Bayena received a cross from the right side and hit the bird, but it passed by the right post of Ter Stegen's goal.
Samuel Chukwueze scored the equalizer for Villarreal, but the referee ruled it out for offside Ninho at the start of the game.
Villarreal continued to press for the equalizer, but Barcelona held out to score 3 valuable points in the title struggle.