Goals video: Atletico Madrid – Barcelona- Played on 01/08/ 2023
Barcelona achieved victory (1-0) during the confrontation with Atletico Madrid, this evening, Sunday, in the 16th round of La Liga competitions, in the stronghold of the Rojiblancos, "Civitas Metropolitano".
Osman Dembele scored for Barcelona in the 22nd minute.
With this victory, Barcelona is in the lead with 41 points, 3 points ahead of Real Madrid, the runner-up, and Atletico Madrid's balance is frozen at 27 points in fifth place.
The match started under pressure from Barcelona, ​​and the Blaugrana players demanded a penalty kick in the 2nd minute, due to a handball on Atletico Madrid defender Reneldo, but the referee indicated that the game would continue.
Pablo Barrios, an Atletico Madrid player, aimed a ball on the edge of the penalty area, which was easily caught by goalkeeper Ter Stegen in the 5th minute.
Christensen, the Barcelona player, tried to shoot from a distance, which was easily caught by Jan Oblak, goalkeeper of Atletico Madrid, in the 8th minute.
Osman Dembele succeeded in scoring the lead goal for Barcelona in the 22nd minute. From a distinguished individual effort from Pedri, he set off and dodged the Atletico defense and passed towards Jaffe, who paved the ball for Dembele coming from behind and hit a ground ball below the right of goalkeeper Oblak.
Pedri almost added Barcelona's second goal in the 24th minute, as he set off and was late in the decision to shoot, so Molina, the Rojiblancos defender, came and scattered the ball.
Antoine Griezmann passed a fallen ball deep into Barcelona's defense, towards Marcos Llorente, who hit a ball that hit Barca's defender Araujo, turning into a corner in the 31st minute.
Molina, the Atletico Madrid player, hit a powerful ball that passed by the left post of Ter Stegen's goal in the 36th minute.
Ter Stegen, a Barcelona goalkeeper, shone in blocking a shot from Antoine Griezmann, an Atletico Madrid player, inside the penalty area, and turned it into the corner in the 42nd minute.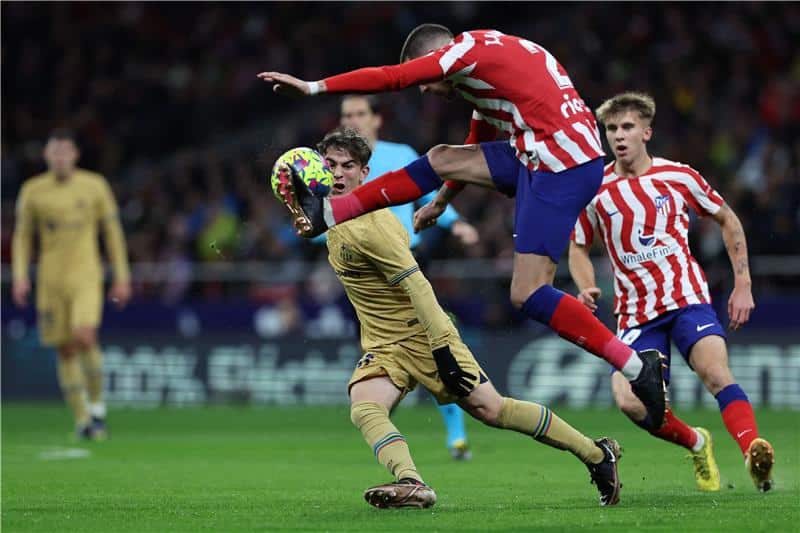 At the start of the second half, Dembele almost added Barcelona's second goal, as he launched deep into Atletico Madrid's defense, and hit a ground ball next to the left post in the 61st minute.
Ferran Torres scored Barcelona's second goal in the 73rd minute, but the referee ruled it out for offside.
Antoine Griezmann wasted the opportunity to score the equalizer for Atletico Madrid in the 75th minute, with a shot from inside the area that passed above Ter Stegen, Barcelona's goalkeeper.
The match referee decided to expel Atletico Madrid defender Savic and Barcelona striker Ferran Torres, due to an argument between the two parties in the 93rd minute.
Barcelona defender Ronald Araujo shone in deflecting a ball from the goal line, which Griezmann hit in the 94th minute.
Atletico Madrid players failed to equalize, and the Blaugrana scored the three points.