Goals video: AC Milan- Roma-Played on 01/ 08/ 2023
A positive draw (2-2) settled the confrontation between Milan and Rome, this evening, Sunday, at the San Siro stadium, as part of the 17th round of the Italian League.
Milan's double was scored by Pierre Kalulu (30) and Tommaso Pobega (77), while Roger Ibanez (87) and Tammy Abraham (90 + 4) scored for Roma.
Milan raised its score to 37 points, in third place, equally with Juventus, in second place, while Rome raised its score to 31 points, in sixth place.
Milan's start was strong, as he carried out a counterattack that reached Liao to pass a cross, which Tonali met with a touch that passed in front of Giroud's head outside the stadium.
Calm prevailed over the match until Ibrahim Diaz received a pass on the edge of the penalty area, and fired a powerful shot, which goalkeeper Rui Patricio sent to a corner.
Tonali executed the corner kick inside the area, to be met by defender Pierre Kalulu with an elaborate header, which the Roma goalkeeper failed to disperse, touching his hand and passing into the net.
Roma's first attempt came after 41 minutes, after a fine pass from Zalewski, who ran past the Calabrians and fired a shot that went just wide of the left post.
Two minutes later, Paulo Dybala found the ball in front of him outside the area and fired a creeping ground shot, but it passed by the goal, and the first half ended (1-0).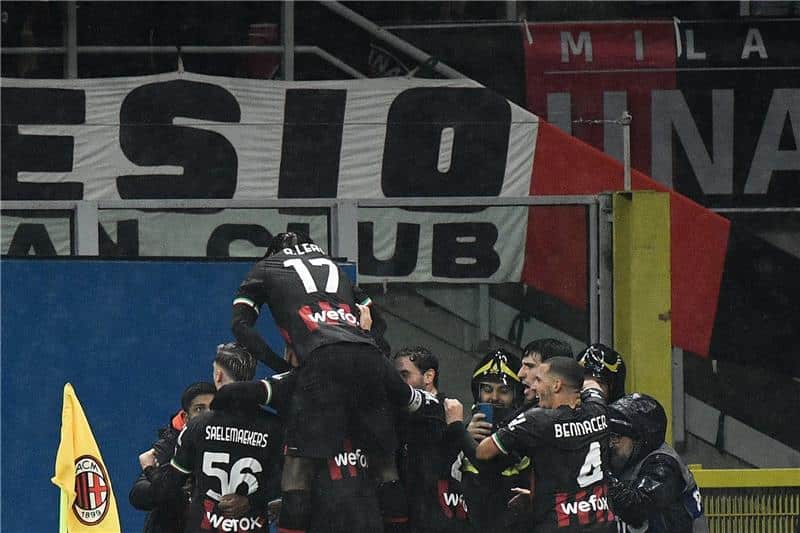 At the beginning of the second half, Calabria passed behind the Roma defense, and Liao broke through and penetrated into the area and fired a powerful shot, but it passed far from the goal.
Theo Hernandez received a ball outside the penalty area and fired a powerful shot with his left foot, which goalkeeper Rui Patricio pushed away from his goal with his fist.
Milan returned seconds later with a new chance. From a cross from Calabria, striker Giro rose and headed it towards the goal, but Patricio caught it.
Diaz received Giro's pass on the edge of the penalty area, so the Spanish star fired a missile, but it passed safely next to Patricio's left post.
The 72nd minute witnessed objections from Milan players to award a penalty kick after a handball on Ibanez, so the referee announced Tonali's yellow card for the objection.
In the 77th minute, Milan managed to score the second goal through substitute Tommaso Pobega, who hit the ball directly to the right of goalkeeper Patricio.
Roma narrowed the gap through Ibanez, who took advantage of a corner kick inside the area, which he met with an excellent header at Tatarusano's net in the 87th minute.
And after a free kick executed by Pellegrini, it reached Matic, who hit a header that was blocked by Tatarusano, to bounce back to Abraham, who hit the net in the 90 + 4 minute.