Goals: FC Barcelona – Valencia – Played on 03/05/ 2023
Barcelona returned to the path of victories by defeating Valencia (1-0), this evening, Sunday, in the Blaugrana stronghold, "Spotify Camp Nou", in the 24th round of La Liga.
Brazilian winger Rafinha assumed the starring role in the match, after scoring Barcelona's only goal in the 16th minute.
Barcelona raised its score to 62 points at the top of La Liga, while Valencia's balance stuck at 23 points in the "penultimate" 19th place.
The match began with pressure from the guests, as Leno received a ball deep in Barcelona's defense, and hit a ball that passed by Ter Stegen's right post in the 5th minute.
The response came quickly from Barcelona, ​​with a ground shot by Frenkie de Jong on the edge of the penalty area in the 6th minute, which was caught by goalkeeper Mamardashvili.
And Rafinha succeeded in recording the progress for Barcelona, \u200b\u200bwhen he received a ball in the back from Busquets and took advantage of the exit of the bat guard and put the ball into the net with the head.
Rafinha exchanged the ball with Baldi before hitting a ball that passed by the post, then Mamardashvili blocked a powerful shot from outside the area through Ferran Torres.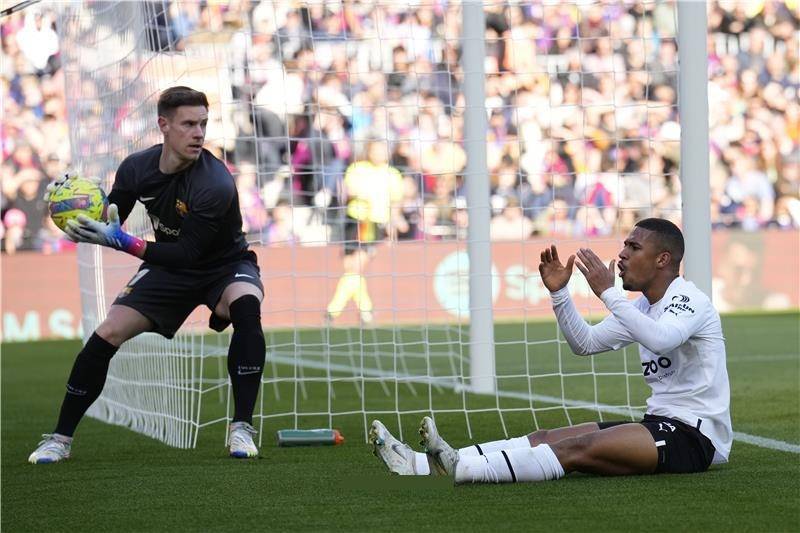 Ter Stegen almost implicated his team with a wrong pass that reached Lino, who hit the top of the horizontal bar, then the first half ended with Barcelona's lead (1-0).
At the start of the second half, the referee awarded a penalty kick to Barcelona, ​​because there was a handball on Hugo Guyamon, and Ferran Torres hit it with the right post.
The most famous referee of the match was the direct red card on the face of Ronald Araujo, after he impeded Hugo Duro, the Valencia player, while he was alone in the 59th minute.
Ferran Perez almost snatched the equalizer in the 73rd minute, as he received a cross from Lino inside the area and hit a ball that touched Ter Stegen's right post.
And Valencia demanded a penalty kick after Perez fell in the penalty area after an intervention from Casey, but the referee refused to count it and demanded to continue playing.
Justin Kluivert almost snatched the equalizing goal, with a powerful shot on the edge of the penalty area, but Ter Stegen blocked it, and Barcelona scored the 3 points.