watch UEFA Champions League Group Stage Draw on 08/31/2023
The much-anticipated 2023-2024 Champions League drawing ceremony has revealed the matchups that will captivate football fans worldwide. The groups have been decided, setting the stage for intense clashes and memorable showdowns.
Group A: Fireworks Await
Bayern Munich and Manchester United find themselves in the same group, Group A, ensuring fireworks right from the start. The battle between these football giants will be nothing short of spectacular. Joining them are Copenhagen and Galatasaray, promising a fiercely competitive group stage.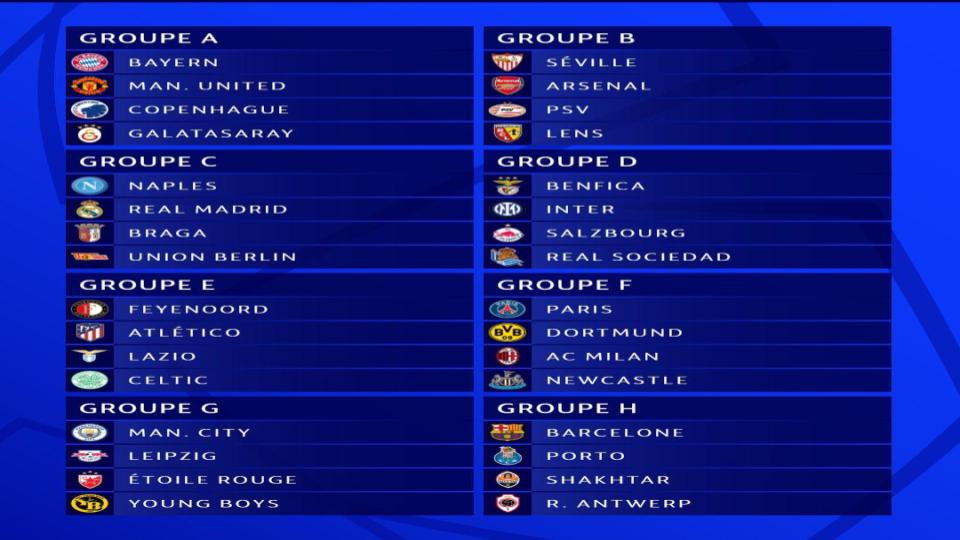 Group B: Seville, Arsenal, and More
Group B boasts a strong lineup, featuring Seville and Arsenal as standout contenders. Eindhoven and Lance complete the group, adding an element of unpredictability to the matches ahead.
Group C: Real Madrid Faces Tough Competition
Group C is headlined by Real Madrid, who will have to navigate through a challenging path against Naples, Sporting Braga, and Union Berlin. The clash with Italian giants Napoli promises to be a highlight of the group stage.
Group D: Benfica and Inter Milan Lock Horns
Group D features an enticing clash between Benfica and Inter Milan, two teams with rich football history. Salzburg and Real Sociedad complete the group, ensuring a balanced mix of styles and strategies.
Group E: Clash of Titans
Feyenoord and Atletico Madrid share Group E, creating a clash of titans that fans won't want to miss. Lazio and Celtic add to the group's competitive edge, making it one to watch closely.
Group F: Paris Saint-Germain's Challenge
Dubbed the "group of death," Group F houses Paris Saint-Germain alongside Borussia Dortmund, Milan, and Newcastle. The matches in this group are expected to be intense and pivotal in determining the frontrunners.
Group G: Manchester City's Journey
Defending champions Manchester City lead Group G, facing off against Leipzig, Red Star Belgrade, and Young Boys. As they strive to maintain their title, each match in this group will hold immense significance.
Group H: Barcelona's Path
Barcelona takes center stage in Group H, where they'll contend with Porto, Shakhtar Donetsk, and Antwerp. The competition is fierce, and every team will vie for the top spot.
As the stage is set for these thrilling encounters, football enthusiasts around the world are eagerly awaiting the kickoff of the 2023-2024 Champions League season. The journey to the finals is filled with challenges, surprises, and moments that will undoubtedly shape football history.