Brazil Dominates Guinea in Support of Vinicius Junior, Winning 4-1
Introduction:
In a friendly match held in Barcelona, the Brazil national team secured an impressive 4-1 victory over Guinea. The game served as a show of support for Real Madrid and Brazil star, Vinicius Junior, in his battle against racism. The match took place at the Cornella El Prat stadium, the home of Espanyol, and saw Brazil take a commanding lead in the first half with two goals, while Guinea managed to narrow the gap with a goal of their own. The second half witnessed Brazil extend their lead, culminating in Vinicius Junior's successful penalty kick.
First Half: Brazil Takes Control

The opening 45 minutes saw Brazil assert their dominance on the field. Joelinton found the back of the net in the 27th minute, followed by Rodrigo adding a second goal just three minutes later. Guinea managed to reduce the deficit with a goal from Ciro Gerasi, who plays for Stuttgart, in the 36th minute. As the half came to a close, Brazil held a 2-1 lead.
Second Half: Brazil Extends Lead

Brazil continued their strong performance in the second half. Militao added a third goal for the team, further solidifying their advantage. With just two minutes remaining, Vinicius Junior sealed Brazil's victory with a successful penalty kick, completing the quad.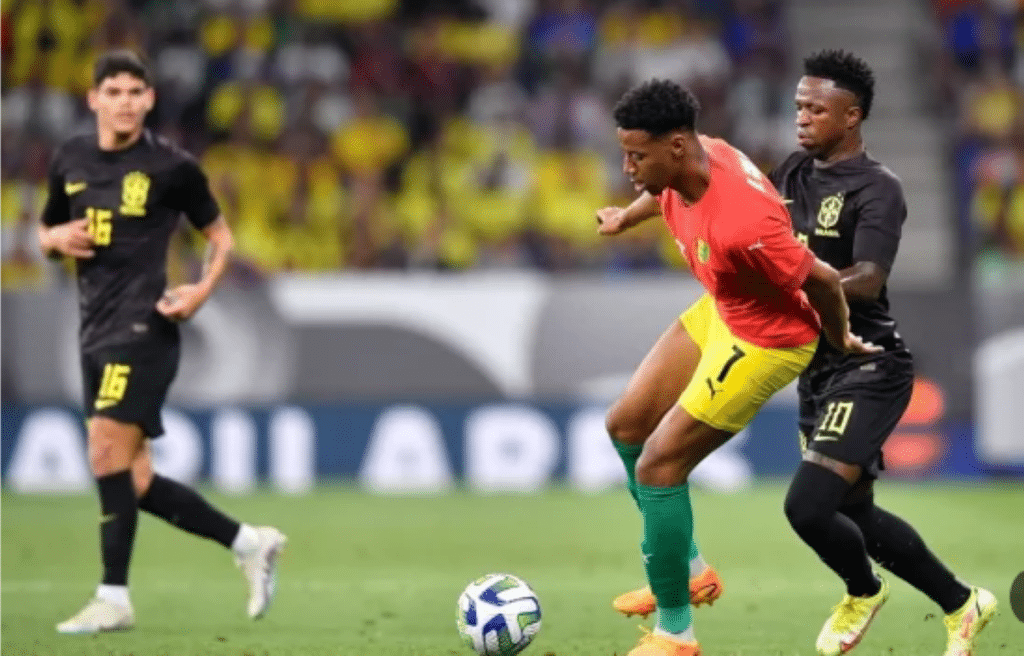 Supporting Vinicius Junior and Fighting Racism

The match between Brazil and Guinea served as a symbolic display of support for Vinicius Junior in response to the racist chants he faced during a recent La Liga match against Valencia. This international friendly match garnered significant global attention due to its stance against racism and the support shown to the promising Brazilian star. Brazil will continue its campaign with another match against Senegal, the African champions, in Lisbon on Tuesday.
Preparing for Continental Qualifiers

The victory against Guinea comes as Brazil prepares for the upcoming continental qualifiers for the 2026 World Cup, scheduled to begin in September. The team will face Bolivia and Peru in these crucial matches, aiming to secure their place in the prestigious tournament.
Conclusion:

Brazil's resounding 4-1 victory over Guinea demonstrated their prowess on the field while also serving as a powerful statement against racism in support of Vinicius Junior. The match showcased Brazil's dominance and showcased the team's preparation for the upcoming continental qualifiers. As they continue their campaign, Brazil aims to maintain its winning momentum and secure a spot in the highly anticipated 2026 World Cup.