Italy Clinches Bronze in European Nations League with Victory Over the Netherlands
Introduction:
In the battle for third place in the European Nations League, the Italian national team emerged victorious with a 3-2 win over the Netherlands at De Grulch West stadium. Federico Dimarco, David Frazzi, and Federico Chiesa were the goal-scorers for Italy, while Stephen Bergwijn and Georginho Wijnaldum found the net for the Netherlands. Italy started the match strongly, taking an early lead and ultimately securing the bronze medal in this highly competitive tournament.
Italy Takes an Early Lead:

Italy wasted no time and swiftly took control of the match. In the 6th minute, Federico Dimarco received a pass from Raspadori and unleashed a powerful shot into the net, courtesy of a precise assist from Genonto. The Azzurri continued their dominance, with Frazzi capitalizing on a deflection to find the back of the net in the 20th minute. Despite objections from the Netherlands players, the referee confirmed the goal after a VAR review.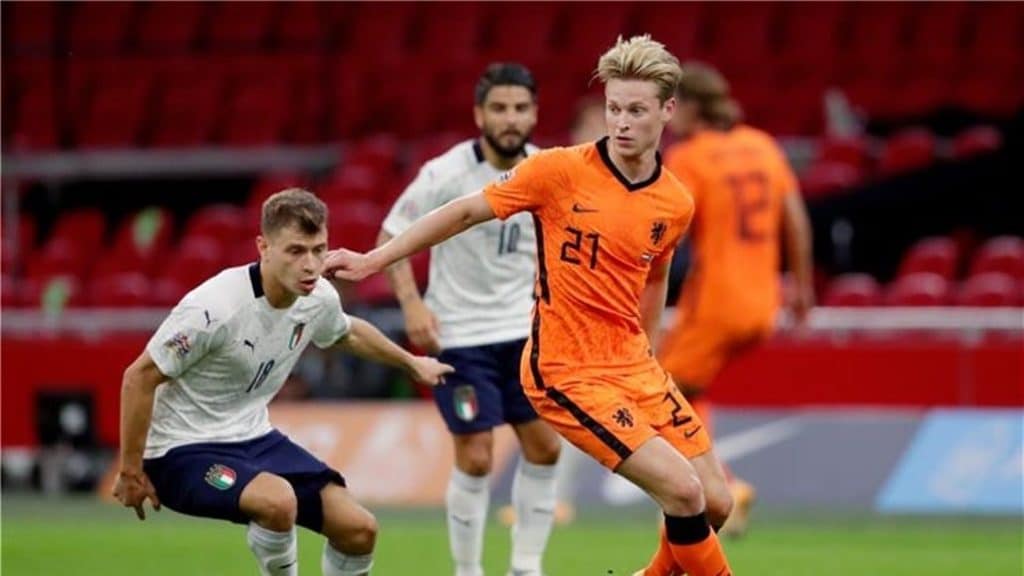 Dimarco's Brilliance and Missed Opportunities:

Italy continued to threaten the Dutch defense, and Dimarco displayed his prowess once again. A corner kick led to a bouncing ball that was expertly met by Dimarco, sending it into the top corner of the net. The Netherlands had their chances to reduce the deficit, but Jakobo's shot narrowly missed the target, denying them a clear goal-scoring opportunity.
Netherlands' Fightback and Italy's Response:

At the start of the second half, the Netherlands made three substitutions to revitalize their attack. Bergwijn made an immediate impact, scoring the first goal for the Netherlands in the 68th minute. However, Italy swiftly responded as substitute Chiesa found the back of the net just four minutes later, extending Italy's lead to 3-1. There was a brief moment of hope for the Netherlands when Figurst seemingly scored, but the goal was disallowed due to offside after a VAR review.
Late Drama and Italy's Victory:

As the match reached its conclusion, Wijnaldum managed to pull one back for the Netherlands in the 90th minute, injecting some late drama. Italy had an opportunity to seal the victory with a fourth goal through Lorenzo Pellegrini, but the chance went begging. Nonetheless, Italy held on to secure the 3-2 victory and claim the bronze medal in the European Nations League.
Conclusion:

Italy showcased its strength and determination as it defeated the Netherlands to secure third place in the European Nations League. The match was marked by early Italian dominance, followed by a spirited fightback from the Netherlands. Ultimately, Italy's goals from Dimarco, Frazzi, and Chiesa proved decisive in securing the bronze medal. The Azzurri can be proud of their performance in this highly competitive tournament.