Goals :Manchester City-Tottenham_Hotspur-Played on 01/19/ 2023
Manchester City overturned a two-goal deficit to an exciting (4-2) victory over its guest, Tottenham Hotspur, this evening, Thursday, at the Etihad Stadium, in a postponed match for the seventh round of the English Premier League.
The City quadruple scored: Julian Alvarez (51), Erling Haaland (53), and Riyad Mahrez (63-90), while the Spurs double-scored: Diane Kulusevski (44) and Emerson (45).
With this result, City raised its tally to 42 points in second place, while Tottenham froze at 33 points, in fifth place.
Spurs appeared offensively for the first time, in the 27th minute, with a shot from Royal from outside the penalty area, which went wide of the goal.
City almost opened the scoring in the 39th minute, with a powerful shot from Lewis, which hit Son and changed direction, but Lloris excelled in stopping it.
The London team scored its first goal, in the 45th minute, after Ederson passed a ball out of reach for Rodrigo, who in turn missed it, so Kulusevski killed it and hit a ground ball that hit the net.
And soon Tottenham added the second goal, in the second minute of stoppage time, after Kane killed a ball from Rodrigo and hit it hard, so Ederson tackled it first, and Emerson followed it up with a header that hit the net.
City narrowed the difference in the 51st minute after Lloris made a mistake in clearing a cross, so Alvarez followed it up with a shot in the goal.
Immediately, City scored the equalizer in the 54th minute, after Mahrez received a penny, to pass the ball to Haaland, who headed it into the net.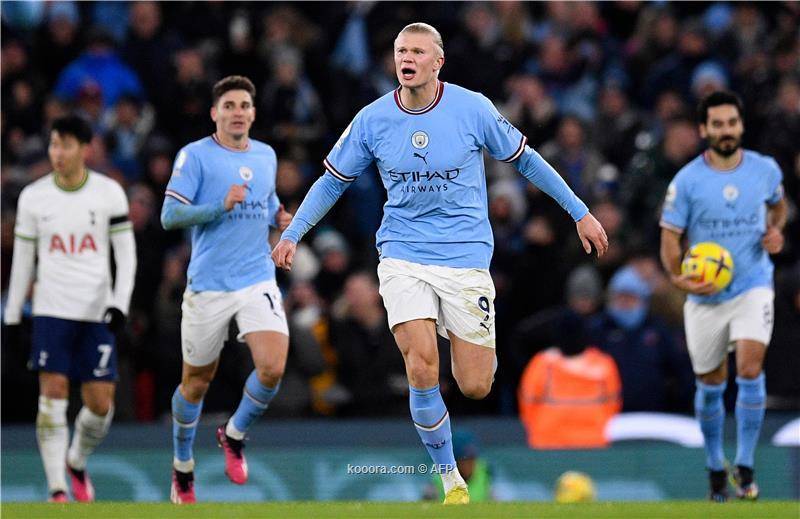 Tottenham wasted an opportunity to score the third goal, in the 60th minute, after a distinguished kick from Kulusevski on the right side, before sending a cross towards Perisic, who was unmarked, to hit a direct ball that hit Rico Luis's foot and then hit the post.
City scored the third goal in the 63rd minute, after Mahrez penetrated into the right side of the area, during which he manipulated Davis and hit a powerful ball in the narrow corner that hit Lloris' net.
City fired a coup de grace at Spurs in the 90th minute, after Ederson sent a through ball, Lenglet mistook it, so Mahrez and Winfred Lawris killed it and shot it into the net, so the match ended with the victory of the landlords (4-2).