Liverpool face Manchester United in a rescheduled Premier League – encounter this Tuesday at Anfield, just days after overcoming Manchester City at Wembley to book a place in the FA Cup final.
Liverpool climbed to the top of the PREMIER LEAGUE table with a 4-0 victory over Manchester United at Anfield.
Jurgen Klopp has stated that he has a healthy group to select from and that he will not
significantly rotate his team for the derby against Manchester United. However, Mason Greenwood
remains suspended by Manchester United pending as a result of a police investigation
into allegations of rape and sexual assault.
While Luke Shaw, Edinson Cavani, Scott McTominay, Raphael Varane, and Fred are all injured,
Red Devils manager Ralf Rangnick will be without a further five players.
As Cristiano Ronaldo scored a hat-trick to help Manchester United beat Norwich City 3-2 at Old
Trafford on Saturday. The Portuguese striker revealed to the world on Monday that one of
his children died while his partner gave birth to twins, so it's unclear if he'll play in the
Liverpool derby.
PREMIER LEAGUE – Liverpool vs Man Utd Highlights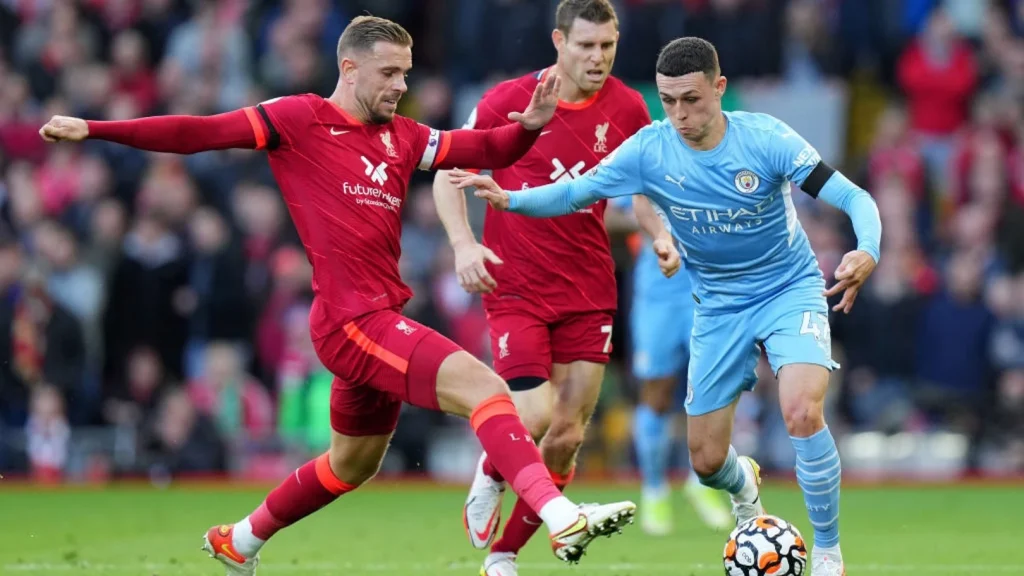 GOAL IN MINUTE 5 LIVERPOOL
In other words, It didn't take long at all. Liverpool have taken the lead via Diaz. Salah sprints down the right flank and delivers a superb cross to Diaz, who scores from close range. United might be in for a long night.
Minute 7: Ronaldo's Backers
In order to support Cristiano Ronaldo, who tragically lost his newborn baby, Liverpool fans rise and applaud.
Watch the goals of the match between Liverpool and Manchester United 4-0
15th minute
Well, It's all about Liverpool here.
Man United appear to be in for a difficult night, as Liverpool are fully dominant. Even when they have the ball, United can hardly thread two passes together.
LIVERPOOL GOAL IN MINUTE 22!
Liverpool has scored yet another stunning goal. As known Salah makes no mistake with a beautiful feed from Mane over the United defense to double the lead.
Minute 30: Helpless United
There is a huge disparity between these two squads. After half an hour, United has only 22% possession and has barely gotten out of their own half. It's simply a matter of waiting for Liverpool's third goal.
38th minute
Manchester United enjoy a rare incursion forward as Rashford gets on the end of a long ball, but he can't handle it and Alisson comfortably catches it.
44th minute
De Gea comes to the rescue.
Meanwhile Luis Diaz's long-range shot is saved by David De Gea. For the home team, everything is far too simple.
PREMIER LEAGE – HALF TIME
Liverpool 2-0 Man Utd
Above all, It's been a masterclass from Liverpool at Anfield with Manchester United unable to live with Jurgen Klopp's men. An early goal from Luis Diaz set the scene, before Mane and Salah combined to double the lead before 25 minutes had gone. United have offered nothing in attack and can barely get on the ball, such is Liverpool's dominance.
Back in action at Anfield, and United have made one change, replacing Phil Jones with Jadon Sancho.
Elanga's attempt at minute 63
United are looking threatening, and on the counter, Sancho finds Fernandes, who tees up Elanga, but Liverpool react with men back and make the block.
GOAL at minute 67 LIVERPOOL
United's chances of making a comeback are now nil. Mane made enough room to fire home from right inside the box after a great stalling of his move.
75th minute
cruising in Liverpool
United's battle has been extinguished by that goal. When Liverpool is in possession, they appear to be at ease and cause havoc in the United defense.
81st minute
United supporters have had their fill.
With less than 10 minutes remaining, the majority of the United supporters on the road have had enough and are heading for the Anfield exit. Is it possible to blame them?
GOAL at minute 85 LIVERPOOL
Robertson wins the ball off Hannibal during a quick Liverpool attack and immediately finds Jota, who feeds Salah, who lofts the ball over the onrushing De Gea and into the net for his second goal of the game.
Liverpool defeated Manchester United 4-0. PREMIER LEAGUE –

Certainly, Liverpool's masterclass demonstrated the difference between the two teams. Such Salah, Diaz, and Mane each had a goal and an assist, with Salah adding a third late in the game. United are left to lick their wounds while Liverpool continues to dream of a quadruple.
Inter makes an advanced storm to the Coppa Italia final!
African Nations Cup, the confrontations of the Arab teams!!
Cristiano Ronaldo! and partner announce with bad news!!