Goals: Angers -PSG – Played on 04/21/ 2023
On Friday evening, Paris Saint-Germain faced Angers in the opening of the 32nd round of the French League. The match was held at the Parc des Princes Stadium in Paris. The PSG team, led by their star players Lionel Messi and Kylian Mbappe, were eager to secure another victory and take a step closer to winning the league title.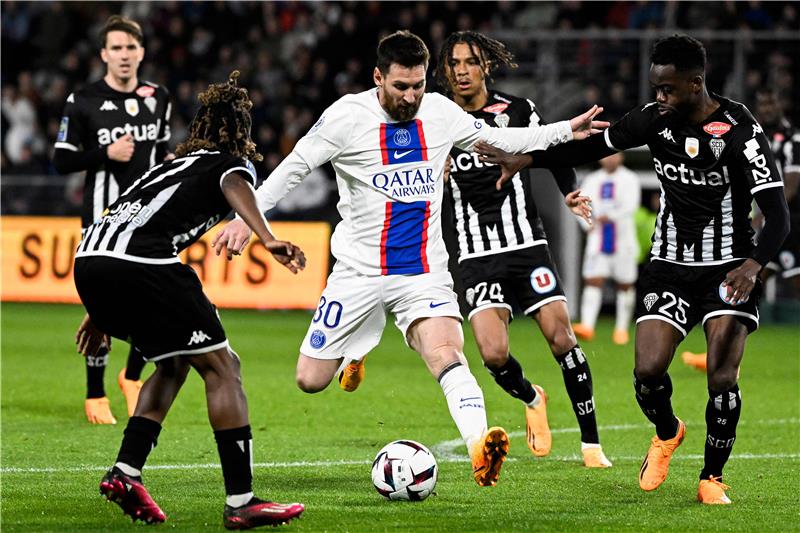 Early Dominance from PSG
PSG started the match strong, with Messi creating a deceptive corner kick that was saved by Angers' goalkeeper, Bernardoni. However, PSG quickly took the lead with a through ball from Messi to Juan Bernat, who passed it to Mbappe. Mbappe eluded the goalkeeper and shot the ball into the empty goal, giving PSG an early lead in the 9th minute.
Only 17 minutes later, Mbappe scored his second goal of the night, with another excellent pass from Messi. Mbappe found himself alone in front of the goalkeeper and scored with ease. This goal increased PSG's lead to 2-0.
Angers' Attempted Comeback
Despite the great technical differences between the two teams, Angers did not give up. They tried to remedy the shock by hitting a dangerous ball at PSG's goal. However, PSG's goalkeeper, Gianluigi Donnarumma, made a crucial save. Batista Mendy also had a good opportunity, but Donnarumma pushed the ball away.
Despite this late goal, PSG took another step closer to winning the French League. The match showed great technical differences between the two teams, with PSG dominating throughout the match. With Marseille in second place, PSG looks set to secure the title in the coming weeks.
Conclusion
PSG's 2-1 victory over Angers was a significant step towards securing the French League title. The team showed excellent technical skills and teamwork, led by Messi and Mbappe. Angers tried their best to come back, but it was not enough to overcome PSG's dominance. With only a few more matches remaining in the league, PSG looks set to win another title and continue their domination of French football.