goals : Villarreal-Real Madrid-Played on 01/19/2023
Real Madrid achieved a fatal victory (3-2) during its confrontation with Villarreal, this evening, Thursday, in the round of 16 competitions of the King's Cup.
Villarreal scored Etienne Kabue and Samuel Chukwueze in the (4) and (42) minutes.. while Vinicius Junior, Eder Militao, and Danny Ceballos signed for Real Madrid in the (57), (69) and (86) minutes.
Villarreal ambush
The match began with pressure from Villarreal, which resulted in the goal of progress, as Juan Foyth passed a ball to Gerard Moreno, who sent it to Kabwe, and with one touch he put it into Courtois' net.
Real Madrid's first response came, with a shot from Real Madrid player Fede Valverde, which passed over Villarreal's goal in the 10th minute.
Pino almost added Villarreal's second goal, with a shot from inside the penalty area, which passed by Courtois' left post in the 18th minute.
Vinicius demanded a penalty kick in the 28th minute, due to a fall after a push from Foyth, but the match referee decided to continue pl aying.
Karim Benzema set off until he penetrated into the penalty area, and passed to Mendy, who did not think twice and aimed directly at the yellow submarines, but goalkeeper Jurgensen shone in stopping it in the 34th minute.
Samuel Chukwueze added Villarreal's second goal in the 42nd minute, who received a magic pass from Gerard Moreno inside the penalty area and hit it to the left of Courtois.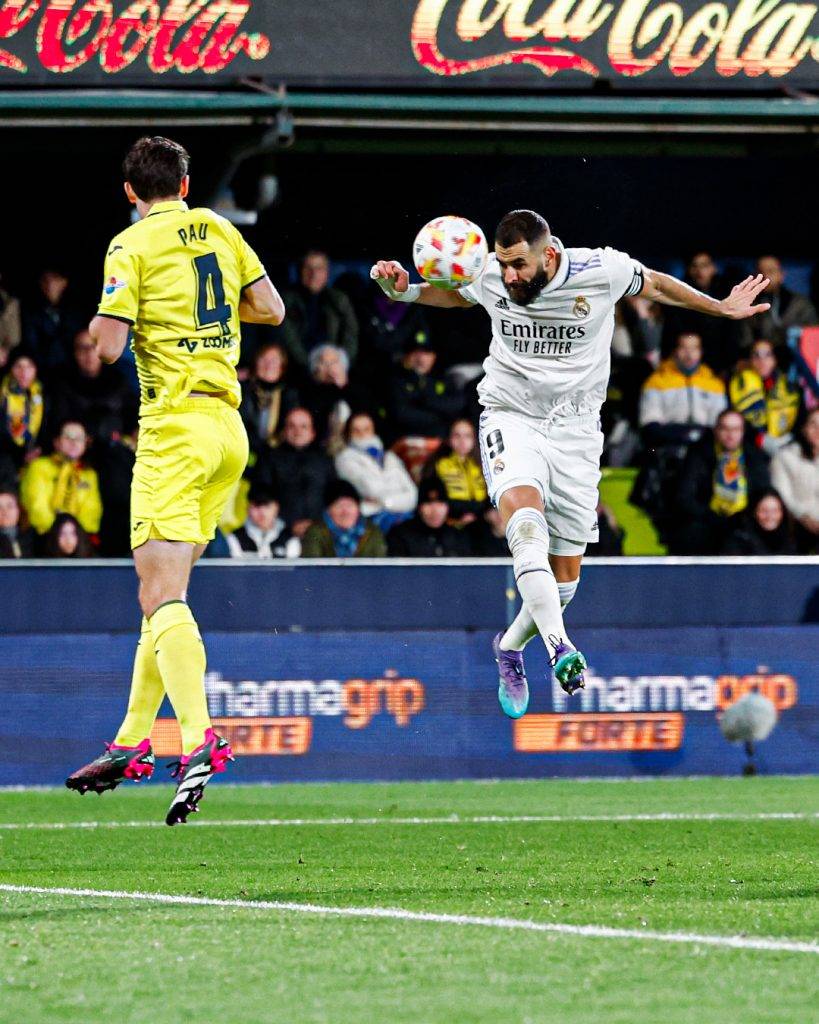 The royal rises
At the start of the second half, Real Madrid began to dominate the course of the game, until he scored the goal of reducing the difference through the Brazilian Vinicius, who received a pass from Ceballos after cutting a ball from the Villarreal players, and with one touch he hit the bottom left of the goalkeeper in the 57th minute.
Jorgensen prevented Villarreal goalkeeper Vinicius from adding the second goal in the 64th minute, by blocking a dangerous shot by the Brazilian player.
Militao succeeded in scoring the equalizer for Real Madrid in the 69th minute, from a cross from the left side through Mendy, which reached inside the area for Benzema, who paved it for Militao, who was in front of the net and scored it successfully.
And Real Madrid's pressure continued, amid a great retreat from the landlords and the public.
And Danny Ceballos grabbed the goal of the deadly victory for Real Madrid in the 86th minute, as he received a curved pass inside the penalty area from his colleague Danny Ceballos and aimed at the bottom left of goalkeeper Jorgensen, to pass the Meringue to the quarter-finals.