Goals: Rennes – Paris Saint Germain – Played on 1/15/2023
Paris Saint-Germain fell into the trap of losing to Rennes, with a single goal, today, Sunday, at the end of the 19th and final round of the first round of the French League.
The only goal of the match was scored by Hamari Traore in the 65th minute.
Despite the loss, the Parisian giants remained in the lead with 47 points, and Rennes remained in fifth place with 37 points, behind Monaco on goal difference.
PSG coach Christophe Gallete relied on a 3-4-3 formation and ventured into promising midfielder Zaire Emery in the starting line-up with Mbappe on the bench in favor of young winger Hugo Iketiki.
But the Parisian team performed very modestly, and it was without real fangs in light of the lack of harmony between the attacking trio Messi, Neymar, and Ikikiki, and the only attempt was a shot from (Leo) over the crossbar.
As for Arnaud Kalimwindo, the Rennes striker was dangerous and annoying and threatened the Parisian goal more than once, but Gianluigi Donnarumma was vigilant, and removed more than one dangerous attempt, to end the first half without goals.
The Rennes team remained in control, and Galileo moved to revitalize the ranks 10 minutes into the second half, with the inclusion of Achraf Hakimi and Kylian Mbappe, in place of Nordi Mokelle and Ikitiki.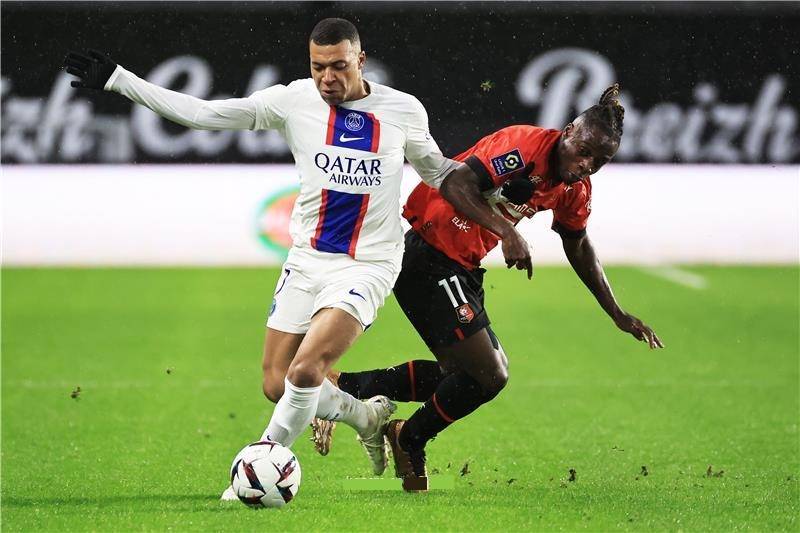 Saint-Germain did not notice the danger of the trio, Amine Guerre, Kalimwendo, and Lovro Meyer until he received the first goal with Hamari Traore's foot after a pass from Trovert, who manipulated Ashraf Hakimi.
The guests rose up, seeking to score the equalizer, and Soler, then Renato Sanchez, took the place of Zaire Emery, Vitinia, and Danilo Pereira, so Christophe Galtier adjusted his plan to 4-3-3.
PSG pressed hard, Kylian Mbappe missed completely, and Juan Bernat fired another shot over the bar.
The Paris stars rushed into the attack with 6 minutes of stoppage time counted and left wide spaces in the defense line, from which Ascension almost scored a second goal from completely alone in the last seconds.
Christophe Galtier was unable to decipher the defensive code of Rennes, and received the return of the two stars, Mbappe and Hakimi, from the negative vacation, with a second loss in the league during the first two weeks of the new year.