Goals: Spain – Norway – Played on 03/25/ 2023
The Spanish national team achieved a victory (3-0) during its confrontation with Norway, this evening, Saturday, in the first round of its qualifiers for Euro 2024.
The goals for Spain were scored by Dani Olmo (13), and Joselu two goals in the minutes (84 and 85).
With this victory, the Spanish national team raises its score to 3 points in the group runner-up, with a goal difference from leaders Scotland, while Norway's balance is frozen without points in the penultimate position.
Spain is in Group A, which includes Norway, Cyprus, Georgia, and Scotland.
The match began under pressure from the hosts, and Dani Olmo succeeded in scoring the goal for Spain in the 13th minute, as he received a cross pass from the left side through his colleague Baldi, and with one touch he housed the ball in the bottom left of the Norwegian goalkeeper.
Norway's captain, Martin Odegaard, almost scored the equalizer for his country in the 15th minute, as he received a pass inside the penalty area, dodged Spain's defense, and hit a ball that Nacho scattered with a penalty.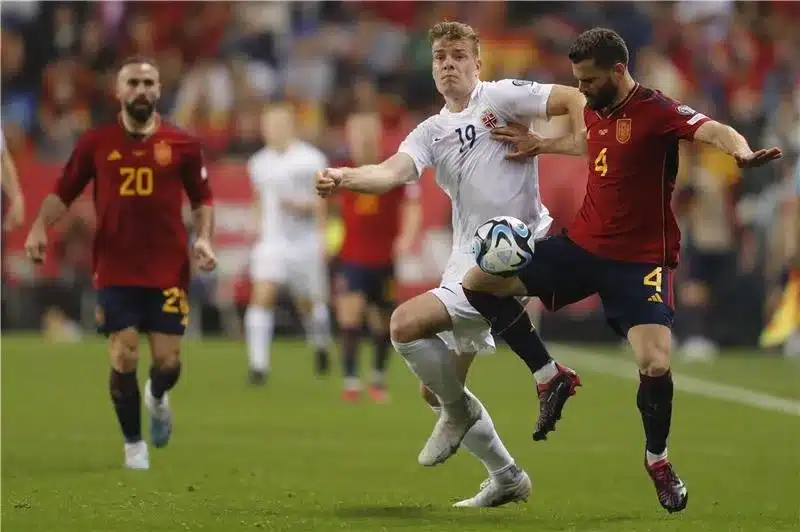 Orsnes, the Norway player, received a cross ball inside the penalty area and hit the bird, had it not been for goalkeeper Kepa, who excelled in tackling the ball and turned it into the corner in the 28th minute.
Danny Carvajal sent a cross from the right side into the area, towards Mikel Moreno, who hit the bird, but the Norway goalkeeper blocked the ball and turned it into the corner in the 30th minute.
The first half ended with Spain leading 1-0.
At the start of the second half, Norway striker Mohamed El-Younoussi tried to equalize for his country, with a shot from inside the penalty area, and goalkeeper Keba excelled in stopping it in the 55th minute.
Oyarzabal, the Spain player, demanded a penalty kick, in the 65th minute, on Ostegaard, the Norway player, for having a handball on him inside the area, but the referee did not count anything.
Alexander Sorloth missed the opportunity to score the equalizing goal for Norway in the 80th minute, with a shot on the bird inside the area, which passed near the left post of goalkeeper Kiba.
Substitute Joselo succeeded in adding Spain's second goal in the 84th minute, as he received a cross from the left side through his colleague Fabian Ruiz, rose, and headed a ball below the right of the goalkeeper.
One minute later, Joselo added his second personal goal, and the third for Spain, as Mikel Oyarzabal hit a ball that was saved by the goalkeeper, which bounced in front of Joselo, who put it into the net.