Goals: Paris Saint Germain – Toulouse – Played on 02/04/ 2023
Paris Saint-Germain narrowly defeated its guest, Toulouse (2-1), today, Saturday, in the 22nd round of the French League.
Branko van den Bumen advanced to the guests in the 20th minute, and Saint-Germain responded with two goals scored by Ashraf Hakimi and Lionel Messi in the 38th and 58th minutes.
The Parisian team strengthened its lead in the French League table, raising its score to 54 points, while Toulouse froze at 29 points in twelfth place.
PSG coach Christophe Galtier had to make several adjustments to the starting line-up to make up for the absences, with the plan changing to 4-4-2, relying on Messi and Ikikiki as spearheads.
Things got worse when Renato Sanchez left with an injury after only 12 minutes, to push his gallants with the young defender, Pichabu, and Danilo moved forward to complete the midfield with the trio of Vitinha, Fabian Ruiz, and Soler.
PSG did not manage to pose enough danger to its opponent, as its offensive attempts were limited to ineffective shots from Messi and Fabian Ruiz.
The situation worsened further, with the visitors advancing with the first goal, scored by Van den Boomen from a free kick, which he hit to the right of the Italian goalkeeper, Gianluigi Donnarumma.
The Parisian giant rose up, seeking to equalize, but the combination of midfield and attack was not completely consistent, and the most dangerous attempt came from a corner kick, played by Messi, that passed by everyone and hit the post.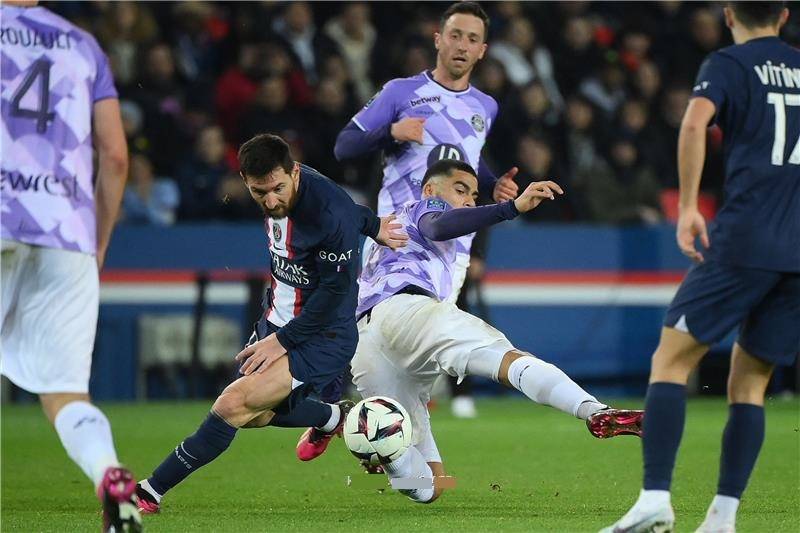 In the 35th minute, Moroccan Zakaria Abu Khallal scored a second goal for the Toulouse team, but fate was merciful to the Paris fans in the Princes Park, as the referee canceled it for offside.
After 3 minutes, Ashraf Hakimi wore the championship dress, as he received a ball from his Spanish colleague Soler, to pave it for himself, and hit a powerful ball with his left, which hit the net.
Paris's performance improved in the second half on the defensive and offensive levels, Messi was relatively liberated, and the harmony between him and right-back Ashraf Hakimi increased, who paved a ball, which Leo met with a direct shot into the net, scoring the second goal.
Toulouse players rushed forward, hoping to score the equalizer, to show spaces in his defense line, and Messi almost scored a third goal, but his shot went over the crossbar.
Galileo moved to revitalize the ranks, with Zaire Emery and Juan Bernat replacing Soler and Nuno Mendes, then Ismail Gharbi in place of Hugo Iketiki.
The referee counted 4 minutes of stoppage time, which was very exciting, as Donnarumma saved his goal from a sure goal, while the left post responded to a ball by Messi, which was followed by Ismail Al-Gharbi with a shot that was removed by the goalkeeper.